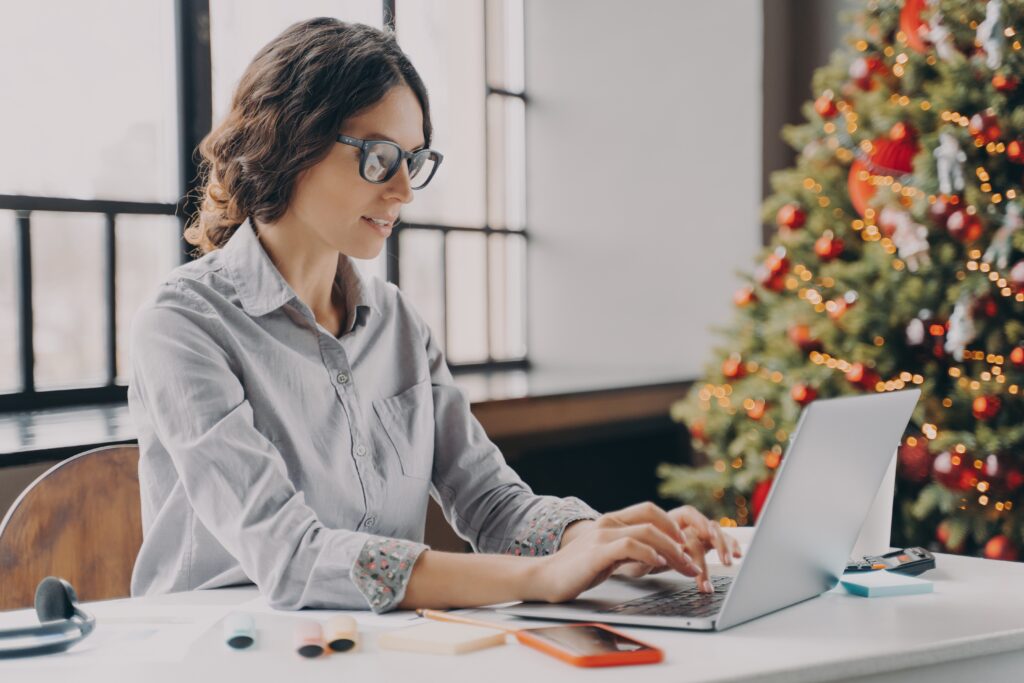 If you typically work from home, you're probably used to the compromise that comes with the territory. Most other times of the year, it's not a problem. The kids are at school; your partner keeps busy with their own work. You set boundaries that allow you to stay productive at optimum times. You have the time and space you need for Zoom meetings, phone calls, and still manage to squeeze in the occasional break here and there. Your routine. It works.
But the holidays throw your home into chaos. The kids are out of school; decorations are going up, shopping wrapping, drop-ins, cookie exchanges, chestnuts roasting on an open fire—whatever your holiday jam might be, it's anything but routine. Before you know it, you're behind the eight-ball, deadlines loom, and your attention span is being pulled in a million directions.
Fortunately, we've got the cure for the holiday work-crunch blues: a coworking day pass from Heritage Office Suites is just the thing to get you back on track and keep the elves at bay.
The Benefits of Day Passes for the Holidays
Now, you won't always be able to extricate yourself from the festivities but knowing you can when you need to is massive. If the object is to get all your work done quickly so you can relax, a day pass is the best solution for everyone.
Family in your guest room
If you use a spare room as your office, you might have to give it up to family over the holidays—and you don't want to have to kick them out every morning just so you can work. It's also not ideal to have to relocate your setup or use the kitchen to work. The noise, the activity, the traffic—none of that is conducive to productivity. With a coworking day pass, you can duck out for the day or a couple of hours, any time of the day or night. Heritage Office Suites offers 24/7 access, so you're covered no matter when you need to go.
Top-notch business equipment and internet
With a house full of people—especially kids and teenagers—you might be competing for bandwidth. Imagine what Netflix streaming in four separate rooms does to your connectivity. If you've got an important Zoom call on the go, you can't afford a dropped signal. What if you're uploading new products to your ecommerce site, and the upload times out or stalls mid-stream? During the busiest shopping season of the year, every second of downtime is revenue lost.
A day pass provides you with the complete package; every corporate amenity you can think of, including meeting rooms, printers, scanners, copiers, the latest conferencing technology, and the fastest internet speeds you can imagine. Better yet, our professional staff is at your service anytime you need them. We'll help you put together presentations, forward your calls, take messages, and keep the coffee on so you can keep your motor running.
Stock up on day passes for the holidays—we're here to make sure you get things done so you can relax and enjoy all the good stuff the holiday has in store.