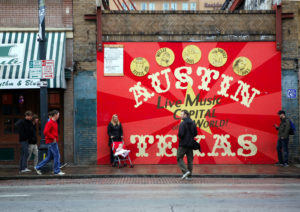 New to Texas? New to Austin? If you've arrived in America's Lonestar state as a first-time Austin resident, moved from another part of Texas, or just in town for a short-term work visit, there are must-see and do excursions to get the real feel of this magnificent area.
In addition to history and culture, the landscape merits a day trip or a weekend getaway. All are a short drive from Heritage Office Suites, where we're happy to cover your business while you take some "me" time.
Here are some potential bucket list items to add to your roster.
1.     Explore the Outdoors
Austin is gorgeous in spring for those who love to experience the great outdoors. For some of the most panoramic and photographic sites, cross Pennybacker Bridge, an engineering feat over lake Austin that connects the Loop 360, or Capital of Texas highway. Hike through Mount Bonnell, also known as Covert Park, for the highest, most beautiful view of Austin and Lake Austin.
Lady Bird Johnson Wildflower Center showcases over six hundred indigenous plant species throughout its gardens and nature trails. If you enjoy cycling, there are beautiful trails along Lady Bird Lake.
Barton Creek Greenbelt provides more varied terrain, including cliffs and shaded groves. For heart-stopping fun, try zip lining at Lake Travis Zipline Adventures, which boasts the longest and fastest zipline in Texas.
The Texas Hill Country is a must-see experience for a great day trip and has a bit of everything to offer, including the famous swimming hole, Hamilton Pool Preserve, with its fifty-foot waterfall.
Floating the rivers brings you closer to becoming a true Texan, and there are three locations close to Austin to choose from– San Marcos, Comal, and Guadalupe Rivers.
2.     Tastes of Texas
Texas is known for its signature barbecue, and the Austin area has some of the best! A short trip from the city brings you to Lockhart, which offers several great traditional BBQ spots in addition to historic highlights like the Caldwell County Courthouse and Jail Museum. The Texas Hill Country is a bucket list exploration with BBQs and wineries, distilleries, an arboretum, and a sobering swimming hole.
3.     Experience the Festivals
Austin became the live music capital of the world in 1991 and hasn't looked back. There are festivals galore that draw people and artists from around the world, making this a must-see city to experience everything entertainment. From the SXSW festival to the Just for Laughs Comedy Festival and Austin City Limits featuring the world's best country and blues musicians, this is a major bucket list item if none other.
And So Much More
Austin area is home to trendy shopping, markets, museums, and theatres. Bucket list items should include the University of Texas' Blanton Museum of Art, showcasing paintings, sculptures, photographs, and textiles, among other mediums. On the shore of Lake Austin is the Contemporary Austin's Betty and Edward Marcus Sculpture Park.
Your bucket list items are a personal choice, and with so much to do and see in Texas, particularly Austin, the list can grow quite long. Knowing that you can rely on Heritage Office Suites to handle the phones while you enjoy some much-needed R&R is a comfort and will allow you to fully experience all that this beautiful part of Texas has to offer.