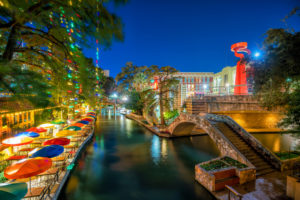 We're all familiar with the saying "all work and no play," right? When you find yourself working too many hours and need a quick break away from your Austin office, several great day excursions await, all within a short distance from the capital. Each offers amenities that will help refresh your perspective and recharge your batteries. Take along some of your co-working colleagues and make the day even more special!
There are many options to choose from, whether you want to do some sightseeing and take in the local history, enjoy some therapeutic shopping, visit local wineries, or indulge in refreshing water sports. The Texas Hills area abounds with communities that fit the bill and include scenic and unique outdoor water parks, waterfalls, and swimming holes.
Here are a few of the best trips from Austin within a couple of hours.
Small Town Charm
Several gorgeous small communities close to Austin are steeped in old-world historical charm, culture, and architecture. Visit boutiques, museums, art galleries, antique emporiums, and artisan shops. Try delicious cuisine and baked delights rooted in a strong German heritage.
New Braunfels, Fredericksburg, Wimberley, Round Rock, and Georgetown are noted for their own unique and delightful atmospheres, offering incredible scenery of the Texas Hill country. Enjoy the state's finest finger-licking Texas barbecue in Lockhart. Most of these lovely towns are also very close to some of the best outdoor water parks and scenic riversides in the area if you want to change up your day.
Exploring the Great Outdoors
For some of the best swimming in the state and to visit a variety of wineries, head half an hour from Austin to Dripping Springs, home to the Hamilton Pool Preserve. You'll need a reservation for the park; however, it is well worth it to experience a dip in the beautiful open cenote fed by underground springs, one of the most beautiful spots in Texas.
Jacob's Well and The Blue Hole are excellent swimming locations, providing a park setting to enjoy a few hours of sun and shade, not to mention excellent swimming.
The state park Ink's Lake is a man-made reservoir and one of the state's best lakes for boating, fishing, and water skiing. The park includes hiking trails, and close by, you can add to your adventure by exploring the Longhorn Cavern through guided tours.
The San Marcos River provides a lot of entertainment for those who enjoy water activities like fishing, tubing, swimming, and canoeing. Part of the extensive river flows through the Palmetto State Park, a vibrant and tropical paradise with hiking trails and an abundance of greenery.
Krause Springs boasts over thirty natural springs of beautiful turquoise water devised into man-made and natural pools perfect for swimming.
Hot Lights, New City
For those who want the big city's bright lights, San Antonio is only eighty miles outside of Austin, offering nightlife, shopping, and outdoor sights like the San Antonio Riverwalk and historic site The Alamo.
Austin and surrounding areas have almost unlimited amenities, providing the perfect short break away from work and related stresses. Whatever your pleasure, you are sure to find it in the many beautiful areas within the Texas Hill Country. While you're away, leave the day's work to the professional services at Heritage Office Suites.