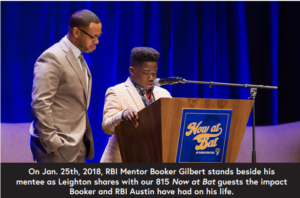 At Heritage Office Suites, we enjoy getting to know our members. This month, we sat down with Booker Gilbert of RBI Austin at our Round Rock location. Continue reading to learn more about the amazing things his company does.
Tell us about your organization.
Reviving Baseball in Inner cities, or RBI is a nonprofit organization that aims to serve youth in underfunded regions of Austin. We help them in the areas of sports, academics, religion, and overall confidence, striving to help them succeed in their everyday lives. We pair each kid with a mentor that provides consistent and unwavering support throughout their time with our organization. As of 2021, RBI Austin served 1,353 kids of various races, genders, sexual orientations, athletic abilities, ethnicities, spiritualities, and socioeconomic statuses.
What inspired you to start with RBI Austin?
Our organization impacts the lives of under-served kids in East and Northeast Austin, an area where I grew up. Over 80% of the kids within our organization are minorities, and I wanted to ensure our leadership also reflected the kids we were impacting.
Do you have any mentors in your life? Did they inspire you to start this?
I think without assigning the formal title of "mentor," anyone that has a positive or even adverse impact on your life can be viewed as a mentor. Either way, they're impacting your life in a way that molds, inspires, or teaches you throughout your life journey.
As far as what inspired me to get involved, I have been mentoring kids since I was in high school; it's always been a passion of mine. When my organization began eleven years ago, the initial group of kids came from my old neighborhood, so it seemed like a natural fit.
Do you have any success stories of a kid you have mentored?
One of my mentees, in particular, and I have been a part of each other's lives since he was 9 years old. At that point, he had no relationship with his father. He had no male role model in his life and no interest in playing any sports, especially not baseball. He had been with several mentors prior to our meeting, but inconsistency led to a lack of trust.
Today, at the age of 16, my mentee is excelling at baseball and is a leader on any team he is a part of. He is a sophomore in school finding a balance between school, athletics, and part-time work.
What is the most exciting part of your work?
Outside of watching the growth of the kids within our organization, it would have to be the growth of the organization itself. We've acquired land and have plans to develop a future home for our facility. We want to build a place our kids can call home for their athletic and life skill development.
Where do you see your organization in 10 years?
In 10 years, we will have a facility built in East Austin, magnifying our impact not only with our kids, but with their families and the community as a whole.
What is one professional skill you're currently working on?
I am trying to strength my skill of balance. All throughout life, we are taught that multi-tasking is a sign of strength. However, I feel that if you master this, you are not giving one thing your all. I strive to be efficient, that way I can get multiple tasks done.
If you want to learn more about Booker Gilbert and his company RBI Austin, you can check out their website.