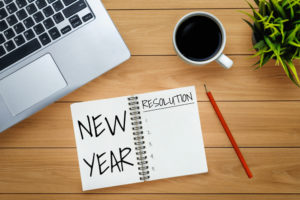 Each year around this time, our thoughts turn to what we could have done differently this year and what we want to change for the next. Whether it's about business success, losing, weight, or getting out of debt, there are plenty of good reasons to plan ahead. New year, new outlook. Right?
Why is it so many of us kick our plans to the curb as soon as we have the chance?
Here are a couple of hard truths:
Only eight percent of Americans will keep up with their new year's resolutions.
Eighty percent fail to maintain their resolutions for more than six weeks.
Most resolutions revolve around health, weight loss, and debt. In the months immediately following the holidays, these things are challenging to achieve, much less see some tangible results. We hammer away at our goals, determined to make it work this year, but when we don't see an immediate benefit, we figure "why bother."
To change this state of being, all you have to do is change your thinking around it. Here are our top tips and tricks for keeping your new year's resolutions, once and for all:
1.     Set Smaller, Achievable, Incremental Goals
If you have to lose 30 pounds and you've never worked out before, it's not going to be fast or easy. However, if you commit to a program and don't initially set any hard goals, you will soon notice you are making progress.
Instead of telling yourself that you're going to lose ten pounds a month, just commit to showing up to the gym or a class three or four times a week. The benefits to your energy, your focus, and your attitude will drive you forward, as will the other unexpected results you will soon see.
2.     Don't Overthink It. Be Decisive.
Stop thinking about your goals as something you "should" do. Instead, tell yourself that you "will" do it, and then take action. That one word – should – is often associated with guilt and indecision. Taking an "I will" approach is more clear-cut. Psychologically, even a small adjustment makes all the difference.
3.     Repeat The Process
Once you have reached an incremental goal, repeat the process. You may find that by the end of next year, you will have come further than you would have ever expected. Repetition reinforces new habits so, hypothetically, at least, the more times you repeat, the more naturally these habits will flow.
4.     Words to Live By
Melinda Gates set the tone for the coming year by choosing a word, as opposed to a resolution. Though she believes in starting the year with a new resolve, she picks a word that embodies that vision, repeating it daily as a reminder of how she wants to approach the year ahead. Past words included gentle (2016), spacious (2017), and grace (2018).
Do you have any tips for keeping new year's resolutions? We'd love to hear them! Share in the comments section below or reach out to us directly to let us know!