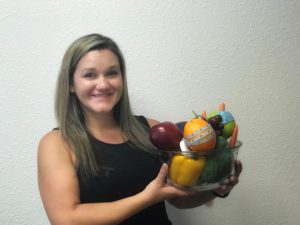 There are many things you need to do to achieve your health goals but one of the most important is accountability.  The Key to Achieving Health Goals says, "find an accountability partner (or the appropriate coach) to put the pressure on when it's needed most. There's a reason why every single professional athlete and many of the most successful business leaders out there have coaches — it's because it works."
Luckily for us, we did not have to go far to find a nutrition and fitness coach who works at Heritage Office Suites.  We recently sat down with Dr. Brittany Crim to learn more about her business, how she got started, tips for healthier eating and why she chose Heritage Office Suites.
Tell us about your company and what you do.
Your Nutrition Guru is a nutrition and fitness consulting company.  I work with individuals and groups using nutrition and fitness to support their health goals.  I am a Registered and Licensed Dietitian with a Ph.D. in Health Behavior and I work with people on everything from weight loss to food allergies to eating disorders.  I also do a lot of corporate consulting providing group presentations on all thing's nutrition and fitness.
How did you get into your current career?  I have been an athlete since I was a child.  I became a personal trainer at age 18 and loved the reward of helping people achieve their health goals through fitness and healthy eating.  I wanted to know more about how I could help guide people to use food as medicine, which is why I became a Registered Dietitian.  I then became fascinated by how people can make healthy behaviors sustainable, which is why I pursued my Ph.D. in Health Behavior.
What can people expect from meeting with you?  NO JUDGEMENT!  I do not judge what others eat, even if you are my patient, I am not here to judge your food choices.  I am here to be a resource and a support system to help you make healthier choices.
What is something about your business that most people don't know?  That my education is different than that of a Certified Nutritionist or a Medical Doctor.  A person can become a Certified Nutritionist by taking an online class, and Medical Doctors often get ZERO nutrition education in med-school.  I have a BS in Clinical Nutrition, an MS in Human Nutrition, over 1200 hours of practical experience in various in-patient and outpatient settings and have passed a national board exam in order to be a Registered Dietitian.
Where do you see your business in 5 years? Hopefully continuing to help people change their lives through healthy habits.  I would like to have added other dietitians to my team so that we are helping more people than I can on my own.
What about your job inspires you?  My patients!  It is a magical experience to share with someone when they achieve their health goals.  I have literally helped people save their lives through food and physical activity, and there is nothing more inspiring than that.
Give us a little background on yourself. (where are you from, family, education, hobbies, etc.…)
I am originally from Southern California but have called Texas home since I was 8 years old.  I am married and my husband, Reggie, and I have 4 amazing kiddos.  We also have 4 dogs and a fish…so a pretty crazy home!  In addition to my business, I work at UT and Southwestern University.  At UT, I run nutrition and fitness programs for faculty and staff, and I teach undergraduate classes.  At SU, I run wellness programming for the students.  Between all my kids and all my jobs, to say I am busy is an understatement!
Other than work, what inspires you?  My family and my colleagues.  My kids inspire me to lead by example and to try and put forth the best version of myself that I can every single day.  My colleagues inspire me by the ways they move our field forward.  Some teach, some coach, some do research- and all of them want and are working towards making this world a healthier place.  I love seeing the different paths they go down and how we all contribute to the greater good.
What would be some tips or tricks that you would suggest to a new client who has a busy schedule such as yours on how to begin to incorporate healthier eating into their routine?
Make healthy habits part of your calendar.  Literally, schedule your grocery shopping and your food prep time.  "Saturday at 2 pm is when I will evaluate the upcoming week and develop a menu for the week and compile my grocery list.  Sunday at 5 pm I will go to the grocery store and Sunday night at 6:30 pm I will prep all my veggies and cook a batch of protein."  I, personally, add my workouts on my calendar as an appointment.  That way I don't accidentally schedule something else or forget. Taking care of your health is just as important as an appointment as going to the dentist, so it should be built into your schedule.
Also, try to make it as easy on yourself during the week as possible by prepping as many versatile ingredients as possible (i.e. chicken breast, rice, diced onions and peppers, etc.). Our healthy eating intentions often fall victim to our fatigue from a long day at work.  If all I have to do is heat up and compile ingredients, I'm more likely to do that than spend 40-60 minutes preparing a meal.
Why did you choose Heritage Office Suites? How has Heritage Office Suites helped your motivation/productivity, or how has it helped your business grow?
I chose Heritage Office Suites because I need a flexible office space that allowed me to work part-time (especially as I rolled out my business).  I joined HOS 5 years ago and only needed a mailbox and 8 hours of office space per month.  HOS has been awesome in accommodating me as my business has grown.  They are helpful with my clients and all my office needs.  I love my HOS family!
If you would like to schedule an appointment with Dr. Crim, you can do so through her website.  You can also connect with her through her Facebook page.