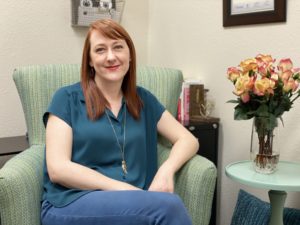 As we head into the new year, many people start thinking about making new year's resolutions for 2020.  But how do you know where to start?  If you're not sure where to start when it comes to setting and achieving goals for yourself; a life coach can help.
According to the International Coaching Federation (ICF), having a life coach has many benefits and they have found 80% of people with life coaches have improved their self-confidence, 73% have improved their relationships, 72% have shown an improvement in communication and 67% have a greater work-life balance.
We recently sat down with Angela Hayes with Life Coach Round Rock to learn more about life coaching, how she got started as a life coach, where she finds inspiration and why she chose Heritage office Suites.
Hi, Angela! Tell me a little bit about what you do at Life Coach Round Rock and what kind of services your company offers.
At Life Coach Round Rock, I offer life coaching, individual, family, and couples therapy/counseling. I work with individuals, families, and couples from all walks of life to achieve their goals. I especially love working with couples to build strong satisfying relationships, adult women who want to have balanced lives that allow them to be their best selves and teen girls wanting to find peace and balance within all the demands and social pressures of the teen years.
 How did you get into your current career?
I am a Master Certified Life Coach and a Licensed Marriage and Family Therapist Associate. I have dealt with a lot of challenges in my life which therapy has helped me to overcome. I realized years ago that it was something I wanted to help others do for themselves. On the road to becoming a therapist, I discovered life coaching, which I believe fills a necessary gap between self-sufficiency and needing therapy.
Many people are successful and functioning beautifully but have one or two areas where they could use some support from someone who is not invested in their life in the way friends and family are. I believe that Life Coaching is the answer to that.
What can people expect from meeting with you?
I am very warm, funny, and nonjudgmental. I genuinely care about my clients. I believe in my client's ability and right to determine their own life so I do not tell people what to do or tell them what they "should do". I offer the information. I ask the questions.
My clients choose what they want to focus on and what they find useful in our conversation and would like to follow up with. I see my job as asking the best questions I can that allow clients a new way to move forward towards their goals and to overcome obstacles that have been getting in the way.
What is something about your business that most people don't know?
Many life coaches and therapists require clients to sign up for a specific day/time slot and to come for a minimum number of sessions. I don't work that way. My calendar is open, and clients are welcome to schedule sessions during any open slot as often or as little as makes sense for them. Many clients get what they need in about 3 to 5 sessions and some get what they need out of 1 or 2. They are always welcome to come to see me and some people come for a couple of sessions each year to stay on track or to get support on the next goal.
Where do you see your business in 5 years?
I plan to continue to grow my practice right here in Round Rock. I am working to create online courses for some of the content that I find myself repeating while working with different clients. This will give people another way to access services and support around topics like positive communication, preparing for marriage, or setting boundaries at work.
What about your job inspires you?
I love working with people. They inspire me with their courage and commitment. My clients work hard to achieve goals that are important to them. Sometimes just coming to my office the first time is an act of courage. Being able to be a part of someone's life while they are tackling hard things is a privilege and it is inspiring to watch.
Can you tell us a little bit about your background?
I am originally from Oklahoma and that is where my extended family lives. My husband and I moved to Austin 18 years ago to be closer to his family. We moved to Round Rock/Pflugerville to be closer to his job and we've been here ever since. We have two children, a boy and a girl, and a dog named Bean who can all be a handful! As for education, I have an associate degree in advertising design and web design, a bachelor's degree in psychology, and a master's degree in marriage and family therapy.
I love art of all types but especially printmaking. I also enjoy reading all kinds of books. I write both for myself and for my profession. I plan to write a book one day, it's in my life plan! I also like to sew quilts, crochet, and make cakes when the mood strikes me.
When not working, what inspires you?
I love to travel and meet new people. Travel inspires me by helping me to see all the beautiful and diverse ways that people live and love in the world. I am a printmaking artist. Visiting art galleries and doing my own artwork inspires me and helps keep my thinking creative and flexible. I also really enjoy going to trainings that help me hone my life coaching and therapy skills. I always come back from trainings inspired to be the best clinician I can be.
Why did you choose Heritage Office Suites and how has it helped your business?
When I first opened my practice five-years-ago I had one client. I needed to keep my expenses down as I was building my business, but I needed a place to see clients. I wanted to find a space that clients would feel confident coming to and where they would be treated with kindness and respect.
I love that the front desk staff is there to greet my clients and offer them hospitality. The building is always clean and nicely decorated. Heritage Office Suites offered everything I needed and wanted, as well as a way for me to grow while having a stable home for my business. My next goal is an office with a window!
If you are interested in working with a life coach, you can schedule a free consultation with Angela through her website.  You can also follow her on Facebook or connect on LinkedIn.