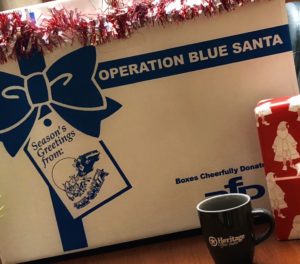 As we approach the end of the calendar year, many small businesses engage in charitable activities. Though it's important to be charitable all year-round, it's especially poignant at the holidays, not just to lower the tax burden, but to share some holiday cheer with those who need it most.
Each year, and for several years running, we partner with Operation Blue Santa in Austin. A charitable initiative of the Austin Police Department, its mission is to provide food and toys for families in need.
To achieve their goals, our men and women in blue (hence "Blue Santa") encourage the support of residents, businesses, and civic groups in and around Austin. They manage a horde of volunteers who cheerfully deliver gift packages and much-needed healthy food to selected families. They also encourage local businesses and the community at large to "adopt" needy families.
About Operation Blue Santa
It all started in 1972. Two patrol officers came to the sad realization that there were 20 families on their beat who would have neither gifts nor food to feed their families at Christmastime. They banded together with like-minded others in the community and provided wrapped gifts and a holiday meal, bringing a ray of hope and joy to those who would otherwise go without.
This year, Operation Blue Santa will serve more than 6,000 families. For each family, they provide wrapped gifts for all children under 14 years of age, and a turkey or chicken dinner, complete with all the usual holiday trimmings.
To support Operation Blue Santa, we give generously so that we might help as many families as possible. We encourage our members to donate as well, either in the form of a financial gift or an unwrapped new toy. On December 19, we will deliver the toys we collect to our local fire station, where they will be sorted, wrapped, and finally delivered to the families on the Blue Santa list.
Communities Thrive When Small Businesses Give
As a small business in the greater Austin community, you have a unique opportunity to make a positive change in the lives of a needy family. Even if you don't have the funds to spare, you might think about donating your time or services to a worthy cause.
Blue Santa is always looking for volunteers. Throughout December, they need people to sort and wrap toys. On December 14, they will need volunteers to help load cars with toys and food boxes to be delivered throughout Austin. People with large vehicles are encouraged to step up to help with deliveries. With 6,000 families to feed, there is a lot to be done!
In January, they will need help to clean up and wind down – so just because the day has passed doesn't mean the need has too. If you are interested in volunteering for Blue Santa, email the organization directly at [email protected] to learn more.
If you would like to donate a toy or some cash to the cause, we are happy to facilitate your donation. Drop by Heritage Office Suites in Georgetown or Round Rock, share in some holiday cheer and join us in making the season a little brighter.