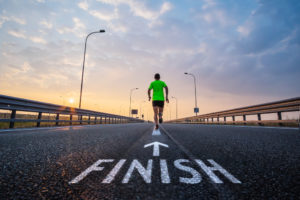 Those last couple of months of the year are a killer.
Unless you're in retail, chances are your attention and productivity will slump between thanksgiving and new year's. Distractions are everywhere. Stress is high, and so is the seasonal cheer. Before too long, we'll all be looking at each other with that glazed-over "I can't believe it's December" look.
You've worked so hard throughout the year, now's not the time to drop the ball. In fact, depending on what type of business you do, there may yet be plenty of opportunities to set the stage for success when you come back in January. Just because your prospects are off the grid doesn't mean you have to be.
Here are some actionable tips to help you finish the year strong:
1.     Clear out the old
The end of the year is the perfect time to declutter your office, your desk, and your to-do list. Ending the year with a "clean slate," so to speak, will do wonders for your state of mind and will help you truly relax once you do get some time off.
2.     Get some closure
Are there some issues around the office that need to be handled? You don't want to carry that frustration into the new year. Plan meetings with the appropriate people so you can clear the air. Think about the outcome you want and be ready to negotiate, but don't settle for the status quo.
3.     Don't put things off any longer
If you are a serial procrastinator, the end of the year might be just another excuse to put things off. However, if things are at a lull around the office, it's an excellent chance to focus on getting through your to-do list. You will have time, and if you get it off your plate, you won't have to think about it anymore. You might even sleep better at night.
4.     Do something good
The holiday season is the time to spread goodwill. Better yet, it's good for your mental health. Whether you choose a cause to donate to or volunteer your time or services in the community, you'll be making the world a better place.
5.     Think about next year
With a solid plan and vision in place for next year, you'll be able to hit the ground running once everybody is back to work. If you wait until January, you risk being overwhelmed before you know it. Think about where you want to be at this time next year. Map out how you're going to get there. Set milestones for yourself along the way. Prioritize the tasks that will help you reach those milestones and get ready to rock it.
Do you have any tips on how to finish the year on a high note? We'd love to hear about them. Reach out directly or drop by for a tour today.