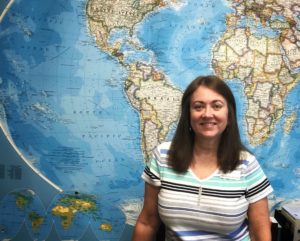 Traveling internationally can be both exciting and daunting.  It's important to make sure you have everything prepared far in advance of your trip.  Make sure you have a checklist prepared long before you depart.
One crucial element of your checklist is to get vaccinated and be sure to have that scheduled well in advance.  One helpful hint is to keep your vaccination certificate in your carry-on in case customs requires you to present it before entering their country.
Conveniently, Passport Health has an office here in Round Rock at Heritage Office Suites that will get you prepared for that trip overseas.  We sat down with Elisa Pearson of Passport Health to learn about her company, her background, her inspiration and why she chose Heritage Office Suites.
Hi, Elisa! Tell me a little bit about what you do at Passport Health and what kind of services your company offers.
Passport Health is the largest and leading provider of travel medicine and immunization services in North America. With 270+ travel clinic locations, a commitment to first-class medical care, and rigorously trained medical staff, Passport Health sets the immunization industry standard.  Our deep vaccine inventory and vast clinic network provides clients with what they need and when they need it.  We strive to be all travelers' one-stop-shop for all their vaccination, travel document and travel supply needs.
Working as a travel nurse consultant for the past 14 years, I counsel our clients on destination specific infectious diseases and ways to prevent contracting those diseases while traveling.  Our aim is to educate, not just vaccinate our clients.  Beside travel vaccines we offer medications to combat certain diseases such as malaria and travelers' diarrhea.  We also provide routine immunizations such as flu and shingles among many others.
Can you tell a little bit about your background?
I am originally from Houston; but have moved back and forth between Houston and Austin multiple times.  I have a Bachelor of Science degree in Geology from the University of Texas at Austin and a Bachelor of Science degree in Nursing from the University of Mary-Hardin Baylor.  I lived overseas for 3 ½ years, 2 years in South Korea and 1 year in Germany.  I have been married for 31 years and have two grown children.  I love to read, garden, and travel, which is why I love my job.  I now get to live vicariously through my client's trips!
How did you get started in this industry?
After living overseas, I was a stay at home mom.  As my children grew older, I decided to go back to school in order to have a career in something I would enjoy.  That's when I got my degree in nursing.  I was lucky enough to find a job that I could personally relate to after spending time in other countries.
What can people expect from a meeting with you?
A travel consultation consists of an hour-long appointment discussing the official Centers for Disease Control and World Health Organization destination specific vaccine and medication recommendations, receiving those vaccines decided upon, and prescribing any travel related medications needed.  While the CDC makes general recommendations, the recommendations we present are tailored to address the specific itineraries of each individual client.
What about your job inspires you?
I get great pleasure when our clients return from their trips and tell me how helpful we were and how much they appreciated the advice given during the consultation.  Some of these diseases can be catastrophic and knowing that I play a role in preventing our clients from contracting these is very satisfying.
Why did you choose Heritage Office Suites and how has Heritage Office Suites helped your business grow?
I have officed at Heritage Office suites since 2008.  It is wonderful having friendly receptionists greet our clients and having a waiting area for them to relax.  It is also very helpful to have someone receive packages when not in the office and not have to worry about being there for every delivery.  Our clients also routinely comment on how nice the office building is which makes for a very professional appearance.
Before traveling abroad; be sure to meet with Elisa with Passport Health and make sure you are covered and aware of any potential health hazards.  You can schedule your appointment here.  To stay up to date on health risks in other countries, follow Passport Health on Facebook.  It's a great place for resources.