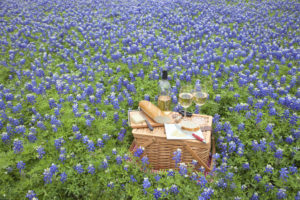 The Texas Hill Country wine region spans about 15,000 square miles and runs from just north of San Antonio about halfway to Fort Worth. In terms of size, it's the second largest American Viticultural Area (AVA) in the United States. If you are hoping to discover Hill Country wine, the sheer size of the area may sound a bit daunting, but if you're in and around Austin, it couldn't be easier.
Head to Fredericksburg
Right at the epicenter of the Hill Country region is Fredericksburg, a small town already well-known for high-end dining destinations. From there, it's a short drive to discover one of the 50 nearby wineries and sample their wares.
Though it was approved as an AVA in 1989, the wine-growing history of the region dates back to the 1600s. When German settlers populated the area in the 1800s, sweet white wines and port-style fortified wines became popular, and though this tradition still holds, there are now as many different types and styles of red and white wines as there are wine lovers who are eager to try them.
Here's our list of what we think are the best vineyards in Texas Hill Country:
1.     Becker Vineyards
This family-run, award-winning winery is making a wide range of red and white wines including cabernet sauvignon, malbec, petit verdot, and many more besides. You'll find their tasting room on the main street in Fredericksburg, but head on over to the winery property to discover their vineyards, lavender fields, and their beautiful tasting room, housed in a 19th century stone barn.
2.     Pedernales Cellars
Specializing in Spanish, Italian, and Rhone-style wines (think juicy reds from tempranillo, dolcetto, and mourvedre, and opulent whites from viognier and vermentino), Pedernales Cellars is 65 miles from Austin and 17 miles from Fredericksburg, where they also have a tasting room on the main street. Don't forget to sample one of their sweet dessert wines as you take in the expansive views of the Pedernales River Valley.
3.     William Chris Vineyards
When Chris Brundrett teamed up with Bill Blackman in 2008, their idea was to make soulful, terroir-driven wines using 100% Texas-grown grapes. The resulting William Chris wines have since been delighting wine aficionados everywhere, with whites made from roussanne, and reds from cinsault, syrah, merlot, cabernet sauvignon, petit verdot, and tempranillo. Visit on the weekend and enjoy live music as you enjoy a glass on their patio.
4.     Hilmy Cellars
Planted in 2009, Hilmy Cellars produces hand-crafted wines from 100% Texas-grown grapes, sourced from their estate as well as various vineyards around Hill Country. Try voluptuous reds from tempranillo, mourvedre, sangiovese, aglianico, and carignan, or whites from viognier, chenin blanc, marsanne, and muscat. Don't miss their rosé, either – by all accounts, the perfect summertime sipper.
While these are just four of our favorite Texas Hill Country wineries, there are so many more to discover. Make Fredericksburg your hub and plan your discovery from there.
Do you have a favorite Hill Country winery? We'd love to hear about it! Drop by Heritage Office Suites in Georgetown or Round Rock for a tour and let's talk wine! Cheers!