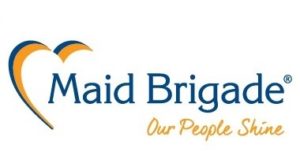 We like to show our appreciation for our members by sitting down and getting to know them each month. Just recently, we had an opportunity to learn more about Candela and Pablo of Maid Brigade. Continue reading to hear more about their exceptional services.
Can you tell us about Maid Brigade and what you offer?
Founded in 1985, Maid Brigade provides effective residential and commercial cleaning services. We pride ourselves on our professionalism and our high quality standards, which we have maintained over several decades. We offer an exclusive green cleaning service with our EPA-registered PUREcleaning® system, that helps us remove harmful contaminants to keep our clients healthy.
How did you get into your current career?
We are originally from Argentina. We emigrated to the United States to start our own business, and thus start our professional careers in the cleaning business. We saw the opportunity to acquire a Maid Brigade franchise, which has been established in the US for over 35 years. We are happy to belong to this family and to be able to provide the best cleaning services for homes and businesses alike.
What can people expect from meeting with you?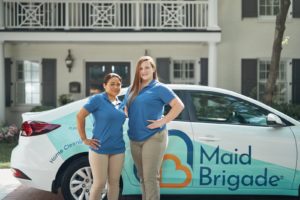 We understand the importance of making a lasting impression. When we meet with our clients, we strive to provide them with a professional team equipped with expert knowledge and a deep and efficient, yet green, cleaning service, so we can protect the health of everyone who lives or works in the buildings.
What differentiates your business from your competitors?
Maid Brigade offers an exclusive PUREcleaning® system. This is the healthiest, most advanced, and complete home cleaning and decontamination system on the market. It starts with a multi-point cleaning process to remove dirt and debris, and it follows with a powerful, non-toxic, EPA-registered disinfectant to remove dangerous particles. The system also utilizes an electrolyzed water cleaner that has no harsh residues, dyes, or orders, and is generated onsite. As our clients' health is important to us, we made sure our products are safe for people, pets, and the environment. Some cleaning services may use a disinfecting solution, but neglect to allow for proper dwell time to truly sterilize. Our electrostatic technology allows the disinfectant to bond to areas that are unreachable by traditional pump sprayers, and our cleaners do not need to be wiped away meaning they can soak in for proper sterilization.
Call Maid Brigade today at (512) 580-3074 to receive an estimate right over the phone.
Where do you see your business in 5 years?
Maid Brigade is a business that is constantly on the rise. The growing concern for germs and bacteria in our surroundings makes our expert service increasingly relevant and the best tool to protect the home and health of families. For this reason, we will continue to provide excellent work to people who need it and who value our cleaning systems while simultaneously allowing our business to thrive.
What about your job inspires you?
We love that we can offer our clients the possibility of spending more time with their families without worrying about cleaning. When we finish a service, we feel proud of our work because we know we have cleaned, not only with the best products, but with our hearts as well. There is also nothing that compares to see the joy our clients feel when they see their houses clean, and that inspires and motivates us to continue offering our services.
Can you give us a little background on yourself?
We previously lived in Argentina. Pablo worked in the Argentinian Federal Court and Candela had a bakery. One day, we got tired of our routine and decided it was time for a radical change. Selling everything we owned, we took a risk by starting our own business in America. We now proudly own a franchise of Maid Brigade, and we could not be happier.
Other than work, what inspires you?
We decided to emigrate to the United States to seek a better quality of life and achieve our goals: growing our family, having our own house, traveling with peace of mind, and of course, owning a successful business. Although this might seem normal to many Americans, this is almost impossible in Argentina. Because of this, we are inspired by how successful we have become in our lives and how successful we will become.
Why did you choose Heritage Office Suites?
Luckily, we found this office that has allowed us to start our business and has provided us with practicalities that we could not find elsewhere. For example, internet and phone access are instrumental in helping any business thrive, as they have for our business.
If you want to learn more about Candela, Pablo, and Maid Brigade, you can follow them on Instagram and Facebook.