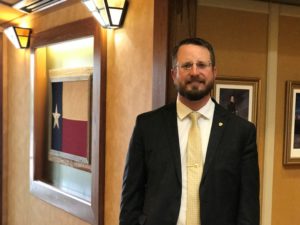 In the winter of 1882, Father Michael J. McGivney found himself in the basement of St. Mary's Church in New Haven, Connecticut facing a difficult problem. Many Catholics, comprising of mostly immigrants were working in unfavorable conditions and many were dying young. The result was widows and orphans with insufficient financial resources.
Father McGivney knew he had to find a solution.  He thought that the men of his parish could come together, they could provide the support necessary to the widows and orphans.  It was from that passion, that he established the Knights of Columbus insurance system.
Today, nearly 2 million men around the world are proud to call themselves Knights. Last year alone, these men and their families donated more than $185 million to charity and performed more than 75 million hours of service.
With such an interesting history; we were thrilled to sit down with our member, Will Britten, and learn more about the Knights of Columbus, his background, his inspirations and why he chose Heritage Office Suites.
Tell us a little bit about what you do at Knights of Columbus and what kind of services your company offers.
As the general agent serving members and their families in the Austin diocese, I help manage 11 licensed agents who each serve individual territories throughout the Austin, College Station, San Marcos, and Temple areas. As a fraternal benefit society, we offer top-quality life insurance, long term care insurance, disability income insurance, and retirement annuity products.
With over 2 million members, the Knights of Columbus is the world's largest Catholic family service organization, donating $1.6 billion and 691 million volunteer hours to charitable projects over the past decade.
What is your background and how did you get started with the Knights of Columbus?
Born and raised in Amarillo, TX, I spend most of my time advising Catholic families on all matters pertaining to their financial security. I earned a master's degree in Architecture from Texas Tech University in 2004 and worked as an architect for 8 years before joining the Knights of Columbus.
In 2012, I began looking for a change in careers to a more service-oriented occupation. When the Knights of Columbus asked me for help, I made the shift and haven't looked back since.
Since then, I have served as an agent with the Knights of Columbus. In my spare time, I play the guitar, enjoy woodworking, spending time with family, and occasionally a round a golf.
Where do you see your business in 5 years?
I see our agency serving a much larger number of members, as the Knights of Columbus is one of only a few fraternal benefit societies who continue to grow each year. We currently have 11 full-time agents in the Agency and are looking to add 2-4 more in the next 5 years.
What can people expect from meeting with you and your team?
Our team consists of highly professional life and health insurance agents, most of whom carry the designation of Fraternal Insurance Counselors, among other financial service provider designations. In meeting with our team, our members find what is called the "Fraternal Advantage" in our industry…we are all brother Knights working towards a common fraternal goal. We are primarily concerned with protecting the Catholic families entrusted to us from financial ruin.
What about your job inspires you?
I enjoy the fact that after we pay our claims and expenses as a Fortune 1000 company, our profits go to running the Knights of Columbus organization and help fund our many different charitable efforts across the globe. The Knights are well-known 2nd responders, helping out during Hurricane Harvey, the water shortage crisis in Austin recently, Habitat for Humanity, Special Olympics, Coats for Kids, and many other charitable efforts that we provide which would not be possible without our financial backbone, which is our highly rated insurance program. It is also an extreme privilege to be able to assist our families in some of the most difficult of economic and financial times.
When not working, what inspires you?
I am inspired by my family of six, my faith, and the privilege of being able to align my faith with my occupation.
Why did you choose Heritage Office Suites?
Heritage Office Suites provides all of the services that I need, plus some. The professional appearance, customer service, and support programs allow me to be able to handle all of the ongoing needs that our business requires.
You can schedule an appointment with Will Britten through his website an learn more about the products and services offered by Knights of Columbus here. You can also follow them on social media on Facebook, Instagram, LinkedIn, and Twitter.