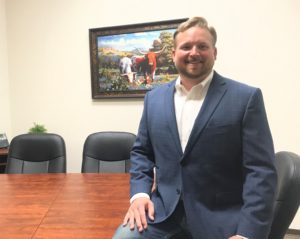 Did you know that by 2016, there were almost 6000 insurance companies in the United States?  This includes property, health, auto, title, and other types of insurers.  If you are searching for insurance for yourself, your family or your business; it can be daunting to know where to start with so many companies and options.
It's time to talk to an expert.  Fortunately, we have such an expert working here at Heritage Office Suites.  Recently, we sat down Cooper Rogers of Goosehead Insurance to learn more about his business, how he got started, his volunteer work and why he chose Heritage Office Suites.
Hi, Cooper! Tell me a little bit about what you do at Goosehead Insurance and what kind of services your company offers. 
At Goosehead we work with over 35 A+ insurance carriers, where we can shop the market for the customer and get them the best coverages at a competitive price.  Home, auto, boat, camper, motorcycle, investment properties, small business commercial, Life.
How did you get into your current career? 
I have always been a servant at heart, and when I found a career where I could serve the public and offer a great product I jumped on the opportunity. I also wanted a change from a current career at that time in order for me to feel more fulfilled with my servant's heart. I also wanted to have more time with my family in order to build memories with my children and wife.
What can people expect from meeting with you? 
I am honest, straight forward and my goal is to offer the best experience when dealing with insurance.  I treat every customer as they were family.
What is something about your business that most people don't know? 
My goal is to go above and beyond for the customer experience.  A lot of people don't know that our agents are able to shop the market in order for our clients to get the best deal. Therefore, coming to a Goosehead Insurance agent will guarantee you the best rate.
Where do you see your business in 5 years? 
In 5 years, I see my business expanding with 5-10 employees. I wish to stay in the Round Rock area and expand my business here with Heritage Office Suites.
What about your job inspires you? 
I enjoy helping people save money on their insurance.  As a person who does not like to overpay for service myself, it is a great fit. Also, choosing insurance on big life purchases can be stressful. I enjoy navigating these choices with my clients and putting them at ease during a time where a lot of information is being shared with them.
Give us a little background on yourself. (where are you from, family, education, hobbies, etc.…) 
I was born and raised in Austin, TX and have always been a Texas Longhorn Fan.  I went to Howard Payne University in Brownwood, TX.  I was a team captain on the football team.  Once I finished college I moved back to Austin and that is when I met my wife.   My wife and have been married for 12 years and have two children.
In my spare time, I like to fish and volunteer for local organizations like Habitat for Humanity and Georgetown Parks & Recreation as a coach for baseball and basketball. I got involved with the Habitat for Humanity due to a networking group that I am a member of, Cedar Park Elite. We volunteer with Habitat for Humanity every quarter; the next project should begin in August 2019. I really like volunteering with this organization because it really reaches the people who are in need. The owner of the home always assists with the build of the home so it's really nice for them to watch the progress.
Other than work, what inspires you? 
My family is my main inspiration and spending time and making memories with them.   A goal of mine is to bring my wife and two children to work with me at the agency when the time is right.
Why did you choose Heritage Office Suites? How has Heritage Office Suites helped your motivation/productivity, or how has it helped your business grow? 
Heritage Office Suites in Round Rock has been great to work with, the office staff is very professional.  I often have the Heritage team assist me with correspondence from my company. Having the team assist me with things that are time-consuming allows me to utilize my time to run my actual business instead of focusing on things that must be done but not necessarily by myself. I know I can always count on the Heritage team, they have truly helped me expand and run my business. The front desk receptionist is always really welcoming to my clients, I have received tons of compliments from my clients regarding the Heritage team and their hopsitality.
To learn more about the services at Goosehead Insurance, receive a quote or schedule an appointment with Cooper, please visit his website.  You can also follow him on Facebook.