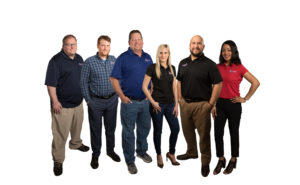 (Pictured from left to right: Michael Kasper,Joseph Marianelli, William Pruett,
Brittani Hokanson, Roy Cantu &Charmaine Gaspard)
When looking for a member to feature this time of year, it only made sense to highlight a business that works in the field of taxes.  This month we sat down with Debra Bawcom of Texas Protax to learn about her business, how she got started and what she does when not working.
Hi, Debra! Tell me a little bit about what you do at Texas Protax and what kind of services your company offers?
Thank you for the opportunity to introduce ourselves to you and our officemates at Heritage Office Suites.  Texas Protax is a property tax consulting firm whose agents represent property owners in Central Texas and the Greater Houston Area in their property tax protests against the appraisal districts.  We represent property owners in the informal discussions with the appraisal district, formal hearings at the appraisal review board, and even in arbitration during the post-appraisal review board process.  We help homeowners obtain exemptions and help educate property owners about the Texas property tax system. Our firm is family owned and operated and has just celebrated our 30th anniversary in serving property owners!  Specifically, I am the Chief Executive Officer as well as a Senior Property Tax Consultant.
Tell us a little background on yourself.
I am a native Austinite – born and raised!  I studied my undergraduate degree at McMurry University in Abilene and then went on to Law School at the Texas Wesleyan School of Law in Fort Worth before returning back to my hometown in 2004.
How did you get into your current career?
I started working for Texas Protax while in high school and after both undergrad and law school, I knew I loved what I was doing and loved the company I worked for.
Where do you see your business in 5 years?
Our firm continues to grow and expand.  In five years, we hope to have doubled our firm's presence in Houston and continue to work with property owners here in Central Texas.
What can people expect from meeting with you and your team?
When potential clients call and discuss their property tax situation with us, we hope to leave that property owner with a sense of professionalism and knowledge.  We truly believe that our primary responsibility in representing property owners is to not only advocate on their behalf before the appraisal district and review board but to also educate our clients in the property tax system.  We hope every client recognizes our expertise and dedication to this field of work.  In our Georgetown office there at Heritage Office Suites, our team specializes in our Williamson County client's properties.  When people from the Georgetown community meet our Wilco Team, we hope those property owners are assured our associates go above and beyond to represent our Williamson County properties.
What about your job inspires you?
Every day I have the opportunity to help a homeowner or a small business owner keep their home and business expenses more manageable.  I love having the ability to answer questions and/or find solutions for issues that the property owner could not resolve on their own with the appraisal district or review board.  I am also inspired by the dedication of our associates in their desire to help each property owner they represent.
Other than work, what inspires you?
I am blessed to be the mother of a wonderful 19-year-old son.  Every day I am inspired to be a better mom and a better person in order to show my son that anything is possible if you believe in yourself.  Outside of family, I am an avid Formula 1 fan and love to follow the Mercedes AMG Petronas Formula One team, but I am also a fan of Red Bull's Max Verstappen! Go #33!
Why did you choose Heritage Office Suites? How has Heritage Office Suites helped your motivation/productivity, or how has it helped your business grow?
We chose Heritage Office Suites in Georgetown primarily because of the location!  It is a block away from the appraisal district which allows our agents to work and prepare for hearings in the most convenient and efficient manner.  We enjoy the community and the ability to interact with other professionals while also having space for our associates to work and concentrate.
To learn more about Texas Protax; visit their website here.