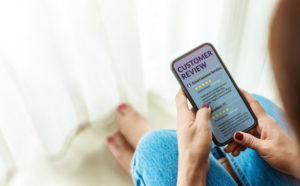 Online reviews are essential to the success of just about any business today. Whether you put stock into online reviews or not, most of your customers probably do. No matter what industry you are in, whether you are B2B or B2C, your audience likes to make their opinions known, so you need to ensure that what they find about you online aligns with what you want them to learn about you.
Here are our top eight reasons why online reviews are important:
1.     People look at online reviews to inform their purchases.
Most people—86 percent, in fact—will hesitate to buy from a company that has negative online reviews. Having no online reviews is almost as bad because it looks like you are either too new or out of touch with the buying public.
2.     Most people like to read several online reviews before making a purchase.
Thirty-two percent will read between four and six reviews, 24 percent will read two or three reviews, 18 percent will read seven to ten reviews. Bottom line: the more reviews you have in more places, the better.
3.     Customers put more trust in companies that have positive reviews
Seventy-two percent of consumers say that reading positive reviews gives them a better impression of the company overall.
4.     Some customers will not buy at all unless the company has at least a four-star rating
Ninety-two percent of shoppers will feel confident about buying from a business that has a four-star or better rating.
5.     Negative reviews tend to drive people elsewhere
Ninety-four percent of online consumers state that negative reviews encourage them to shop elsewhere.
6.     Lots of reviews drive social proof
Social proof is an influential phenomenon that states people tend to follow the actions of others. When consumers see that other people have purchased and reviewed a product, they will be more likely to do so themselves. Understandably, this can have a significant impact on online sales.
7.     Online reviews are good for SEO
Social proof is a significant driver of good SEO. This means that your positive reviews will do a lot of heavy lifting for you when it comes to your search engine visibility. The more reviews you have, the more influential and relevant you appear. Google collects data from a wide range of sources, including Facebook, Yelp, TripAdvisor, Houzz, Angie's List, and also (of course) from Google Reviews.
8.     Online reviews get people talking
Encouraging reviews from your happy customers is a great way to expand your reach and keep the conversation going. Keep your listings up-to-date and accurate so that your past, current, and future clientele can share their experiences.
In conclusion, these are just a few of the reasons why online reviews are important, but hopefully, it provides you with some context as to why you should care.
If you are a small business owner in the Austin area, we'd love to help you grow. Heritage Office Suites offers affordable, flexible office solutions you need at our locations in Round Rock and Georgetown. Drop by for a tour today or call us to learn more about what we can do for you.