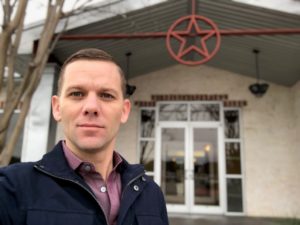 This month, we introduce Patrick Pitts of Southwest Funding.  Patrick is a mortgage lender and helps home buyers make buying a home a reality and helps real estate agents close deals.  His team leverages technology and communicates every step of the process with their home buyers and referral partners while delivering A+ service to their clients.
While working in many different industries; Patrick has always found himself in leadership roles.  Patrick elaborates, "I have managed bars, restaurants and hotels before I got into banking where I became a retail branch manager at a local Credit Union in the Austin/Round Rock Area until I got into Mortgages and Became a Mortgage Branch Manager for Southwest Funding."
While working with Patrick and Southwest Funding, he says people can expect a professional experience with a smile and the help they need.  "Helping people is what I love to do!"  He goes on to say, "With home buying I understand this is one of the biggest purchases of the buyer's life and inevitably questions will come up, rest assured I will be available 24/7 to answer all your questions. You will get the experience of a proven loan officer that will ensure you have a stress-free mortgage experience and not have to pay any extra for it."
Patrick is inspired by helping families realize the dream of home ownership but also says helping the agents is equally important.  "Nothing gives me more satisfaction than getting a family into their next home but helping the real estate agents provide for their families, even with 12 years in the industry, that feeling never gets old!"
Patrick has lived in Texas for over 30 years and in just about every region of our great state. He grew up in North Texas before moving to West Texas for about 5 years and have currently lived in Central Texas (Austin/Round Rock) for over 12 years.  He has a wife and 2 kids who are in 1st and 3rd grade and they all love sports!
Patrick is very happy he chose Heritage Office Suites in Round Rock as the home for his business.  "I looked all over before I signed a lease here and this was by far the best valued location around town.  The staff here is phenomenal and I love the décor.  It has helped me grow by giving me a great location and facilities for my clients to come and discuss their next purchase."
If you are interested in a home loan, you can contact Patrick through his website.  You can also connect with him on his social media on Facebook, Instagram, Twitter and LinkedIn.
Join our Facebook Group for Heritage Office Suites Business Owners and Tell us what you do!