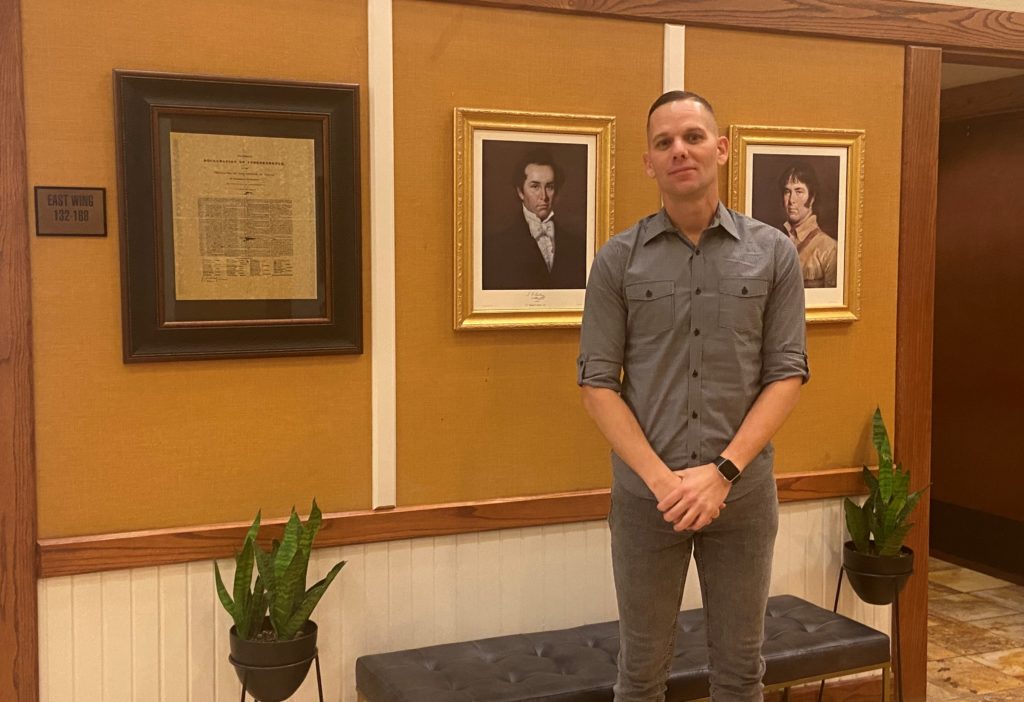 Each month at Heritage Office Suites we have the opportunity to highlight one of our valued members. This month we are highlighting Round Rock member Patrick Pitts of Southwest Funding. Continue reading to discover more about Patrick and his expertise.
Tell me a little bit about what you do at Southwest Funding and what kind of services your company offers.
I am a Branch Manager/Mortgage Loan Originator for Southwest Funding's Mortgage Super Team. I have a fantastic team of superheroes that help people buy or refinance their homes with the best combination of rates, fees and services on the market.
How did you get into your current career?
I have been in this industry for 15 years and got into this industry by doing auto, personal, and home equity consumer loans before getting into mortgages exclusively. I love the feeling of getting a new homeowner into a home.
What can people expect from meeting with you?
A smile!
Personally, I want to assure everyone that, you can not only survive the challenges life throws at you, but thrive no matter the situation you are in.
Professionally, I want every home buyer to know that they are more than a loan number to us. We care about them and their family; we want to do whatever it takes, to ensure that they are in their dream home at the lowest possible cost. Some buyers are credit challenged or don't have a lot of money saved for the down payment, rest assured that no matter what your situation is, we can help! Just contact us!
What is something about your business that most people don't know?
Two things, first and foremost we have an AMAZING TEAM! I believe in the WE and not the ME! We can connect you with a fantastic realtor, CPA, Home Inspector or any home service you need.
Second, most people don't know that we have a wide variety of loan programs. While we do a ton of Conventional, VA, and FHA loans, we are so much more than just the traditional loan programs. We have loan programs for US Citizens, ITIN users, and everything in between. We have team members that not only speak English but also Spanish and Vietnamese.
Where do you see your business in 5 years?
As the top mortgage branch in Central Texas! We will continue to be efficient in our process, and communication is key with all parties of the home buying transaction. We want to attract the best loan officers to join our team, and we want to work with the amazing realtors in the area. It is a requirement for us to work with individuals that share our same values of communication, look at every situation individually, and are doing their best to help every person we meet.
What about your job inspires you?
The look on a family's face when they get their home keys! It is EASILY the best!
Give us a little background on yourself. (Where are you from, family, education, hobbies, etc.…)
I have lived in about every part of the great state of Texas. I was raised in Dallas and moved to Lubbock for college before settling in central Texas in 2005. There is nowhere else I'd rather be! I love to explore all the great restaurants Austin has to offer. I enjoy playing basketball and serving on the board for Unity Select Sports, a children's sports program. I coach a 6th-grade team and help organize a basketball league for over 75 kids, which tips off January 2022!
Other than work, what inspires you? 
My children inspire me. Seeing my son Patrick and daughter Klara grow up and become the great kids they are today has been an absolute pleasure. They have been A/B honor roll students and are heavily involved in football and cheer since they were able to stand. I love seeing each of their personalities evolve as they have gotten older, and I am so proud of these two!
Why did you choose Heritage Office Suites? How has Heritage Office Suites helped your motivation/productivity, or how has it helped your business grow? 
I chose Heritage Office Suites back in 2018 for the location. It was convenient to downtown Round Rock and easy to access from IH-35. I have stayed at Heritage Office Suites because of the people! The whole Round Rock team is amazing, and they truly care about the members at both Round Rock and Georgetown locations. The facilities here are fantastic with plenty of meeting rooms and a professional feel for anyone that walks in. I have also been fortunate to work with several other businesses in the Round Rock location, and it's been great to refer businesses and receive many referrals from the other members.