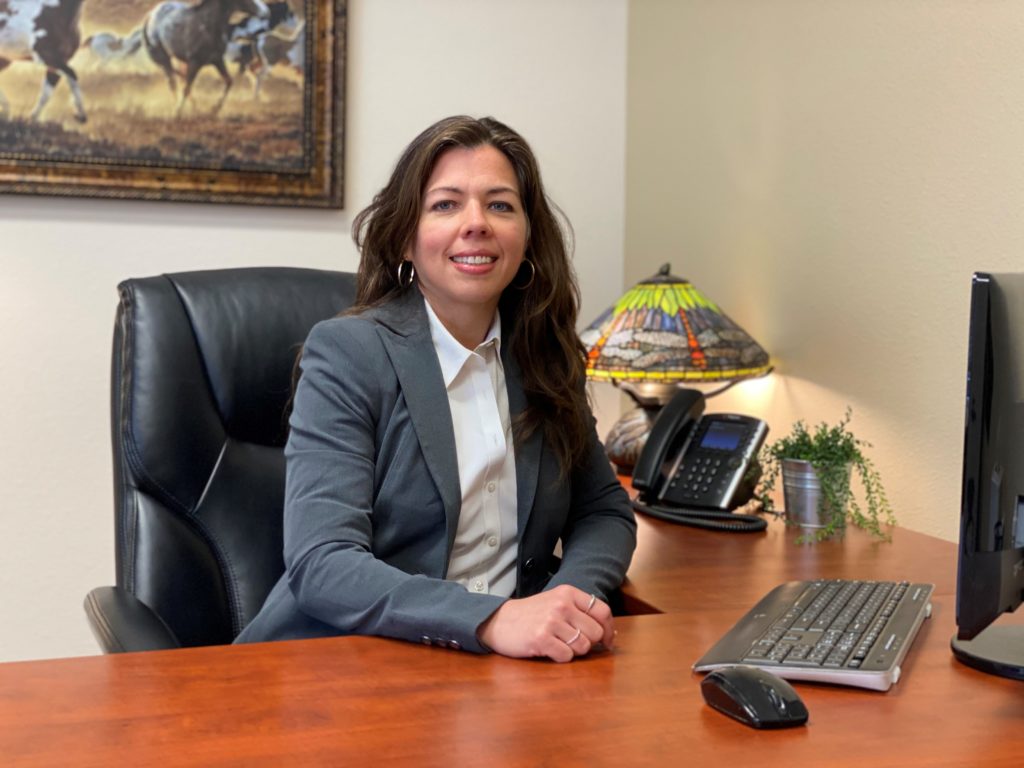 Heritage Office Suites is fortunate to host a diverse business community. Each month, we focus on one of these unique local businesses so that everyone has a chance to learn more about our members. We recently had the chance to speak with our member, Dawn Salas, of Salas Law to learn about her practice and herself!
Hi, Dawn! Tell me a little bit about what you do at Salas Law and what kind of services your company offers.
I am the owner of Salas Law, we are a boutique firm with over 15 years of experience practicing exclusively in the field of immigration, including both business and family-based immigration. We take on a limited number of clients to ensure that each of our clients receives the time and attention they deserve.
Our business division is focused on helping businesses secure the specialized skill sets they need to achieve their goals in our global economy. Often, the skill sets sought by U.S. businesses are found outside our U.S. borders. Our firm assists in navigating the complex web of immigration and labor laws to secure that talent. We have assisted business in the fields of education, technology, finance and manufacturing amongst others and our clients range from startups to those with over 10,000 employees.
Our family division helps U.S. citizens and Lawful Permanent Residents in sponsoring family members living abroad as well as individuals who qualify for humanitarian programs. Specializing in immigration law allows us to stay abreast of recent changes in the law as well adjudication trends providing us with the expertise necessary to skillfully handle complex issues in business and family immigration.
How did you get into your current career?
After practicing in the areas of family law and criminal law, I stumbled upon immigration law and found my passion. I have found that having experience in both family law and criminal law have uniquely positioned me to advise my immigration clients as immigration cases often have overlapping issues. The area of immigration is complex and ever changing and I enjoy the constant challenges and opportunities to grow my knowledge base, staying abreast of changes and how the resulting policies and procedures impact my practice and my ability to serve my clients.
What can people expect from meeting with you?
I believe in building relationships with my clients and that is evident from the first time we meet. I take time with clients to gain an in-depth understanding of their situation and to ensure all their questions are answered. After an initial meeting, I am often thanked for my ability quickly assess the situation and to provide a clear explanation of what needs to be done to achieve the desired result. Clients often enter my office with a lot of unanswered questions, numerous clients comment that they are at ease after meeting with me because my expertise is clear, and they trust they are in the right hands. I am very humbled by the trust my clients place in me, I show my gratitude by working tirelessly to achieve the best results possible.
We provide personal attention, expertise and achieve outstanding results because we are dedicated to our clients and we truly care about each and every one of them.
What is something about your business that most people don't know?
I started my own business so that I would be able to provide the time, attention, and dedication that my clients deserve. Many of us have experienced feeling like just "a number" in high volume businesses and being dissatisfied with the lack of personal attentions which seems to be becoming the norm in our society. I started my practice so that I would be able ensure that I could live up to my goal when I started law school, which was to help others, and to do so in a way that honors my values. I am very fortunate to have the ability to minister to others through my law practice.
Where do you see your business in 5 years?
Salas Law will continue to provide services exclusively in immigration, providing clients from across Texas and beyond access to quality representation and a level expertise and attentiveness which is unmatched.
What about your job inspires you?
I am most inspired by the role I play in reuniting families, helping business owners achieve their goals through talent acquisition and giving a voice and independence to many who qualify for benefits through our various humanitarian programs.
Give us a little background on yourself. (where are you from, family, education, hobbies, etc.)
I grew up in New York City and started off my career as an Assistant District Attorney in New York. I moved to Texas in 2006 and started my own practice. I found my passion in immigration law because it is both challenging, given the complexity of the law, and rewarding to help others on such a personal level. After having worked for two Austin based immigration firms, I started my own immigration practice in Round Rock, Texas in 2014.
From a young age I was taught the importance of integrity, reliability, hard work and compassion for others. I do my best to model these behaviors in my practice and instill these values in my own children.  I attribute my success, both professionally and personally, to these core values.
Other than work, what inspires you?
My time outside the office is spent with my very supportive husband of 17 years and my three amazing children, by far my greatest accomplishments. And of course, I must mention my German Shepherd, the other love of my life.
Why did you choose Heritage Office Suites? How has Heritage Office Suites helped your motivation/productivity, or how has it helped your business grow?
I came to know Heritage Office Suites in 2006 when I started working for a firm that had a second office in this location. Based on the experience I had, it was the clear choice when I started my own practice in 2014.
Heritage offers an array of services, many of which I have used over the years as my practice needs have changed. From virtual office to dedicated office space to phone answering to administrative assistance Heritage has met my needs time and time again.
I am most impressed with the Heritage staff at the reception desk, they are the first individuals that my clients see when entering the office and I could not be happier with the level of care provided to my clients. I have found the staff to be attentive, reliable, and trustworthy. The support I receive from the administrative staff when I am away from the office has truly made it easier to run my practice. The facility is tastefully designed and provides access to a variety of conference rooms on an as needed basis, that has allowed me flexibility in meeting space while maintaining a low overhead, which is very important to me as a small business owner. I have been thoroughly satisfied with Heritage Offices Suites and have all intentions of continue to utilize its many services as I continue to grow my practice.
If you would like to learn more about Dawn or her practice, feel free to visit their Website as well as their Twitter or Facebook.