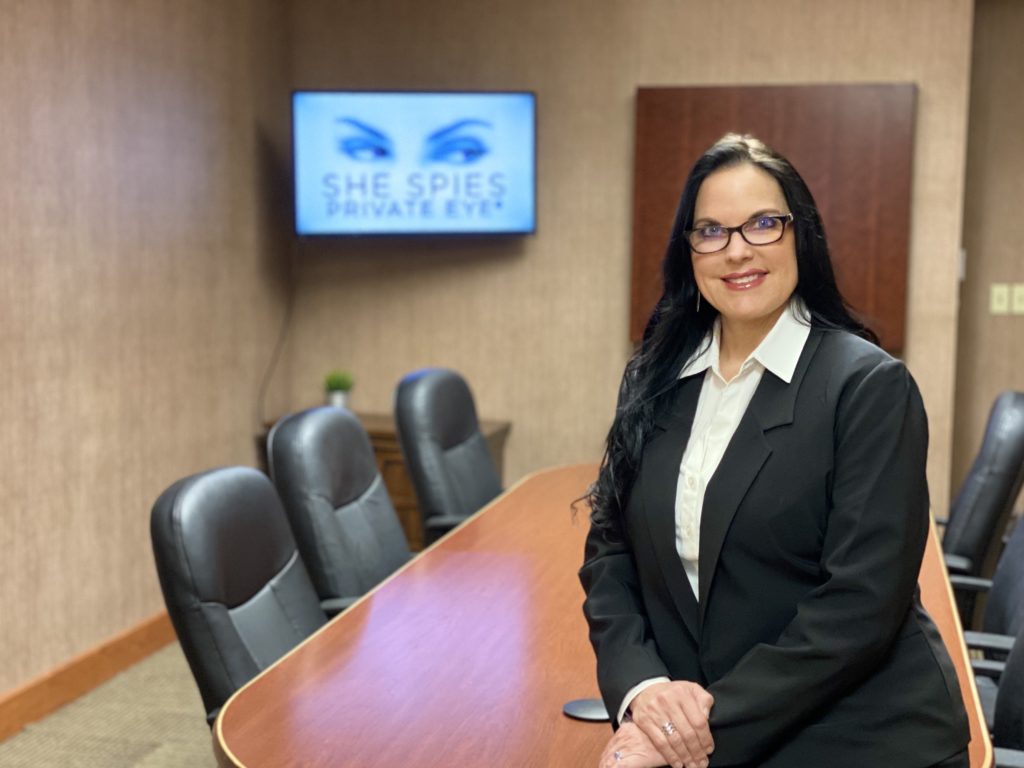 President James A. Garfield once said, "The truth will set you free." Is there an area of your life or business where you are looking to uncover some additional information? Anji Maddox and her team at She Spies Private Eye can help! We recently had the chance to speak with Anji to learn more about not only herself but also her business and how beneficial it can be.
Hi, Anji! Tell me a little bit about what you do at She Spies and what kind of services your company offers.
Hello all, I am the owner of She Spies Private Eye. I started my company in April of 2003. The services we provide are as follows: domestic matters such as Infidelity and Child Custody (our specialty), background checks, safe online dating, Insurance fraud, Corporate Investigations, Computer and cell phone forensics, surveillance, undercover work, witness interviewing, runaway and other miscellaneous investigations.
How did you get into your current career?
I received my Bachelor of Science degree in Criminal Justice. I worked as a Juvenile Probation Officer for many years and it is there, I realized my love and passion for helping children. I observed so many youths being torn between parents, that I decided to be on the side where I could help ensure children were in the safest home possible and therefore, found my love for Child Custody.
What can people expect from meeting with you?
Well, in today's wonderful world of technology, we do most of our work with clients over the phone and via email. We are happy to meet people though if they prefer. The office staff and I are all very compassionate, kind, and easy to talk with. We truly love helping others. We are an office filled with women where being nurturing is our nature.
What is something about your business that most people do not know?
I would assume most people do not know that we are licensed and regulated by The Texas Department of Public Safety. A second thing people may not know is how all three of my children have assisted me in some capacity with my business. They grew up in the industry as my youngest was only 9 years old when I became a Private Investigator. She was a great asset for me on cases, now she is 27 years old and a pure natural in the business.
Where do you see your business in 5 years?
I have been in business for 18 years. In 5 years, I would hope to see my business expanded even further in the state and possibly out of Texas.
What about your job inspires you?
My inspiration comes from knowing I am doing everything I can to provide answers for people and possibly give them some peace so they can process what is happening to them. But regarding children, keeping them safe and with the parent who can provide a healthy, happy, stable, and responsible home brings me more joy than I can ever explain.
Give us a little background on yourself. (where are you from, family, education, hobbies, etc.…)
I am a country girl who was born and raised in Victoria, Texas. I grew up in the typical "Beaver Cleaver" environment. My parents have been married for 55 years and going strong. My dad retired from DuPont Plant as third in command. My mother worked for the school district and is an expert genealogist. I grew up playing girl's fastpitch softball (my dad coached), was very involved in my Church, showed horses, was on the drill team, and being the oldest of 3 girls, helped my dad with all the outside activities around our property. For vacations, we grew up going camping (tent) and traveling the mountains around the US. So, as you can see, I had an extremely blessed childhood.
Today, I absolutely love camping (camper style now), love the outdoors, exercise, listening to music, and being around my kids and 6 grandchildren, with a 7th on the way. I have a very close family who finds any reason to be together even when it is Church on Sunday followed by lunch.
Other than work, what inspires you?
Aside from work, so much of my inspiration comes from my family. My parents raised me, to be honest, responsible, dependable, and loyal, along with many other things. I work very hard at being that example for my children and grandchildren. I want them to be inspired to help others, be giving and kind, love God, and live life to it is fullest.
Why did you choose Heritage Office Suites? How has Heritage Office Suites helped your motivation/productivity, or how has it helped your business grow?
Because of my line of work, I needed to have a place to meet clients in confidence. I found out about Heritage many years ago and immediately signed up with them. It has been a blessing to have a professional office space with a reception area for my clients. Having this helps clients understand we are a professional industry and not some "fly by night" profession. Earning that trust with my clients has assisted in growing my business. I am thankful for Heritage's professionalism and hospitality for my staff and clients.
If you would like to learn more about Anji Maddox and She Spies Private Eve, you can visit her website. You can also connect with her on Facebook.