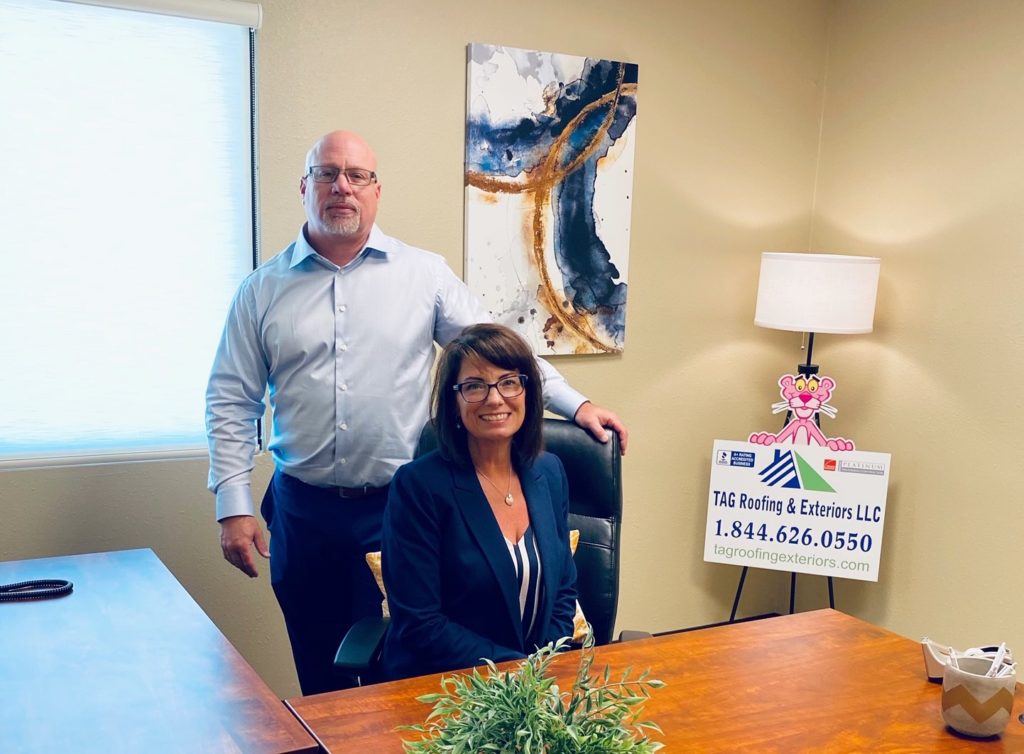 One of the best parts of our community at Heritage Office Suites is getting to know our members. We enjoy being able to learn more about what everyone does not just on a professional level, but on a personal one as well. We recently had the chance to learn more about Teresa and Garth Aegerter and their business and we hope you enjoy getting to learn more about them as well – Take a look!
Hi, Teresa and Garth! Tell me a little bit about what you do at TAG Roofing and what kind of services your company offers.
At TAG Roofing & Exteriors our goal is to Protect Families, Serve Communities, and Build Remarkable Relationships by providing homeowners with solutions for all their roofing needs. We provide commercial and residential roof replacement/repairs, gutter replacements, and exterior repairs.
How did you get into your current career?
Garth had previous construction and roofing experience and Teresa's corporate background, that provided us with the confidence and level of experience to open TAG Roofing & Exteriors 7 years ago.
What can people expect from meeting with you?
Anyone meeting with Garth and Teresa can expect transparency and a lifelong relationship. We treat every client as family, with integrity and transparency when helping them through the process of any project, large or small.
What is something about your business that most people do not know?
As of September 2019, the Texas Department of Insurance passed a law that mandates all homeowners must pay their insurance deductible to their contractor. It is now against the law, a class B misdemeanor, to not pay it to the contractor. Unreputable roofing companies are finding ways around this law but the homeowner needs to know that insurance companies are requesting proof of payment in the form of cancelled checks to ensure deductibles are paid by the homeowner. Failure to pay the deductible is subject to $10,000 fine and/or 360-day jailtime for the homeowner and contractor. At TAG we do business to the highest ethical standards and will NOT take part in unethical business practices.
TAG Roofing & Exteriors is a platinum preferred contractor with Owen Corning, the #1 leading shingle manufacturer in the U.S. This certification is awarded annually and requires rigid business and installation standards to maintain this certification year after year. There are only half a percent of platinum preferred contractors across the U.S. and 5 in the Southern Texas Region.
It's also exceedingly difficult to maintain an A+ rating with the BBB in our industry. We are proud of our customer reviews and feel confident that our BBB rating and our 5-star Google rating accurately represent how we take care of our customers and build lasting relationships. Given there is no licensing requirements in the State of Texas to operate a roofing company it is increasingly important to leverage word of mouth reviews, and testimonials to find a reputable roofing company. We want to be your roofing company for life!
Where do you see your business in 5 years?
In 5 years, our goal is to be a recognized roofing brand servicing all of Georgetown, Hutto, Round Rock, Pflugerville, Cedar Park, and surrounding Austin communities. Financially, our goal is to be a $10M business with a larger team to service our customers.
What about your job inspires you?
Helping customers and building lifelong relationships is without question what we enjoy most about our job. We want to give customers peace of mind that their largest investment is structurally sound and protecting their families.
Give us a little background on yourself. (Where are you from, family, education, hobbies, etc…)
Garth grew up in El Paso, Texas and is an army veteran that worked in the medical field during and after his military career. After leaving the medical field in 2009, he got into the roofing & home improvement industry and brings 11 years of roofing experience to our customers.
Teresa grew up in the Westlake area and worked in Corporate Finance and Leadership Development at Dell Inc. for 27 years before retiring in 2013.
We married in 2014 and decided to build a roofing business together that would allow us the opportunity to build a reputable company together. In addition, it offers us the flexibility to enjoy time with our 6 children, large family, and close friends in the Austin area.
Other than work, what inspires you?
Hunting, camping, and spending time with family and friends!
Why did you choose Heritage Office Suites? How has Heritage Office Suites helped your motivation/productivity, or how has it helped your business grow?
Heritage Office Suites gives our organization the professional environment we need to train and develop our TAG team members three times per week. It provides our organization with a home base for company related activities and the Heritage staff is always professional, friendly, and helpful.
If you would like to learn more about TAG Roofing, feel free to visit their Website as well as their Facebook, Instagram, and Twitter.