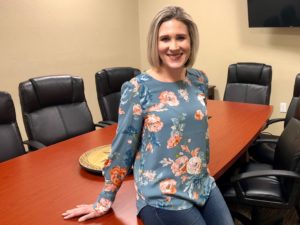 Sara Khan, in her book Separated!: Making a Decision is Hard… Sticking on it is Harder says, "Marriage is a Bond so Strong, yet it gets weak if the knitters (the couples) do not weave the threads carefully, lovingly."  This really good advice for all couples and sometimes it requires some professional assistance to maintain that strong bond.
This month, we sat down with Sonya Jensen; who specializes in helping individuals and couples who are seeking to have stronger, more fulfilling relationships; with Sonya Jensen Counseling and Coaching to learn more about her practice.  We also asked her about her background, what inspired her and why she chose Heritage Office Suites
Hi, Sonya! Tell me a little bit about what you do at Sonya Jensen Counseling and Coaching and what kind of services your company offers.
I'm a Licensed Marriage and Family Therapist specializing in Couples in Crisis and Sex Therapy. I also work with Fortune 100 executives across the world for a relationship, career, and inspiration coaching. I started my practice in 2018 and provide both in-person and online counseling and coaching services.
 How did you get into your current career?
I began my graduate degree in Clinical Psychology in 2011 at Azusa Pacific University in San Diego, CA. I always knew I wanted to work in mental health and had a particular focus on supporting couples and individuals to live healthy, productive, and meaningful lives.
What can people expect from meeting with you?
My clients mean the world to me. My approach is clear, caring, and focused. I do thorough assessments with all my clients to know exactly what's going on. We build a plan that we can track. Most importantly, you'll feel known, valued, and truly cared for.
What is something about your business that most people don't know?
I do Global Coaching. I work with individuals and couples all over the world through Zoom video.
Where do you see your business in 5 years?
My goal is to begin writing my book and recording podcasts in early 2020. I see my business in 5 years as stepping on to the stage to reach a broader audience and training other mental health professionals on how to care for couples in severe crisis.
What about your job inspires you?
I get to make a lasting impact every day on the lives of my clients and their families.
Tell us a little bit about your background?
I'm from all over the place. Most recently, my family and I moved here from San Diego, CA where my husband was stationed in the US Navy. I've been married for 14 years and have 2 children. I love watching movies, reading, baking and shopping.
Other than work, what inspires you?
I'm a collector of stories. I always feel inspired when I'm around others and learning from their experiences.
Why did you choose Heritage Office Suites? How has Heritage Office Suites helped your motivation/productivity, or how has it helped your business grow?
I loved how clean, well-managed, and easy it was to move my practice over to Heritage Office Suites in Georgetown. I can walk in knowing that everything is taken care of and just focus on what matters to most of my clients.
If you are interested in services from Sonya Jenson, you can contact her through her website.  You can also follow her blog page and connect on Facebook and Instagram.