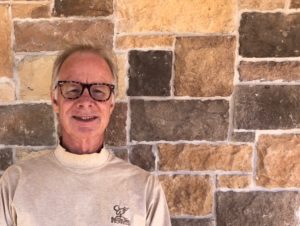 In our first edition of Faces of Georgetown, we had the privilege to sit down with our member, John Knight of Transamerica Financial.  John is proud of his commitment to middle income families and small businesses in the financial literacy world.  Through their WealthWave brand, they have trade marked the phrase, "The How Money Works Company."
Depending on the goals of their clients, they offer everything from life insurance, investments to fee based active money management and use those vehicles to target retirement, tax strategies, college funding, estate planning and many other areas of concern that benefit hard working families.  John also has a master's degree in theology which he finds handy in his financial services business, "it allows me to provide a useful perspective to my clients as they navigate all of life's journeys."
John and his wife moved to Georgetown years ago from the San Francisco Bay area.  They have two sons and one daughter.  Their daughter has blessed them with three wonderful grand kids.  Their two sons live in Oklahoma and Chicago.  However, they are thankful that their daughter lives close by, so they are able to spend a lot of quality time with their grand kids.  When John does find time on his own, he enjoys golfing, reading intriguing books and listening to Hammond organ music.
When John started exploring the idea of entrepreneurship and having his own business, the financial services industry was a natural fit.  "The market need is critical in the middle-income market and I live to help."  He adds, "people are currently driving toward a brick wall called retirement and they are not ready!  It's a great feeling when you can help them to do that."
When meeting with clients, John does not consider his own accomplishments because his focus is on the client's needs and heir goals.  He provides a "Financial Snapshot" in a 30-minute time period.  After a few days, John meets with his clients again to review what options should be implemented.  When asked why he does not charge for this initial meeting, John says, "it's a time for us to get to know each other."
Waking up everyday with the opportunity to serve is John's inspiration.  He loves meeting new people and says, "listening to their stories and dreams is very special to me, and then to be invited to assist them on that journey is most inspiring!"  He cherishes the opportunity to mentor new business owners and entrepreneurs who are intrigued by financial marketing.  He adds, "the industry is wide open and needs a new generation of entrepreneurs who want to enhance their careers; even on a part-time basis."
John finds Heritage Office Suites Georgetown to be a stable attractive office blended with a tremendous and courteous staff.  The office provides him the flexibility to work within his space or at a client's home or office.  "In the gig economy, flexibility and mobility is so important"
To schedule a meeting with John, contact him through his website.  You can learn more by following his blog and connecting with him on social media.