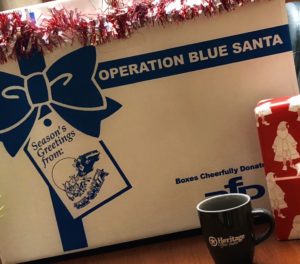 To end the year, the team at Heritage Office Suites chooses to work with a local charity who is doing incredible things for the people of our community. This year, we are working with Operation Blue Santa, an initiative run by the police department in the City of Austin. Through its efforts, they are able to bring gifts and food to families who would not otherwise have them.
About Operation Blue Santa
Austin Police Operation Blue Santa is a charitable organization that was launched in 1972 by a couple of patrol officers who discovered that some of the families on their beat wouldn't have anything for the holidays – no gifts, no food. With the support of local businesses as well as the Austin Fire Department, Austin Independent School District, Austin Water Utilities, the City of Austin, and Austin Energy, they were able to raise enough cash and in-kind donations to make the holidays special for those in need.
When they began their outreach, they helped 20 families. This year, they expect to reach 5,000 families or more, and this is only possible with the generous contributions and dedication of our local business community. We are passionate about family and we know how difficult it can be, especially for children, to get through the holidays with so little. The opportunity to put smiles on young faces and food on tables is something we just couldn't pass up.
Choosing a charity to work with
We picked Operation Blue Santa because of our commitment to the community here in the greater Austin area.
When you decide, as a business, to partner with a charity at the end of the year, choose a cause that you and your team can rally around – something that swells your heart, something you can be proud to be a part of.
Get your team together and throw some ideas around. Discover what pulls at your collective heartstrings and then make a pledge to raise money or goods (as applicable) to donate.
Due diligence: choose wisely
Be sure the cause you choose is being managed well and by a reputable company. Keep in mind that since charitable giving mounts at this time of the year, there are plenty of scammers out there all too happy to relieve you of your cash.
Do your research before you commit to anything. A great website that can help you choose wisely is Charity Navigator, a site that can help you narrow your choices by categories, geography, and more. Other sites that will support your research include GiveWell, GuideStar, and even the Better Business Bureau.
A good rule of thumb is to avoid charities that donate less than two-thirds of their budgets to the cause.
So, dig deep and share your goodwill and good fortunes this year. Helping people in need will do much more than just make tax time a little easier. Keep in mind that it's things like this that make all the difference in the lives of those less fortunate than us.
Reach out today to discover how Heritage Office Suites can help your business grow and thrive.