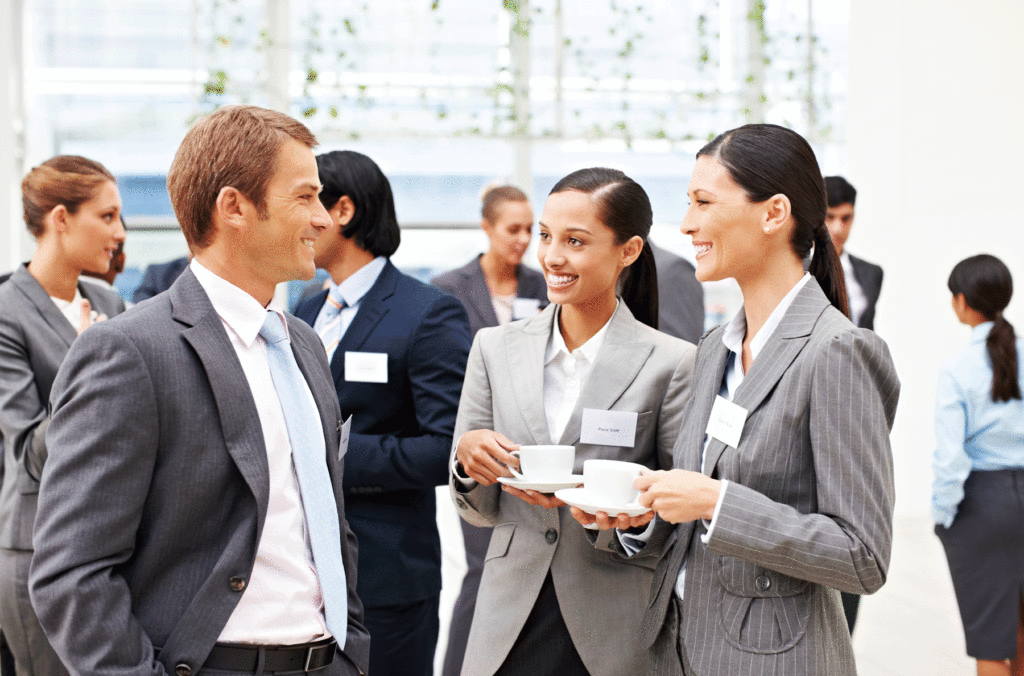 Building a professional network is integral to your business' success. Before you tune out, thinking "I haven't got time to socialize, I'm too busy growing my business", keep in mind that building a professional network isn't all fun, games, and cocktails at happy hour – though those things may come into play every once in a while. After all, it's not what you know, it's who you know.
Networking should be considered a necessary part of your business development. After all, no man (or woman) is an island. You need others to get behind you to strengthen your brand, to help you accomplish more, and to make certain connections. Read on for some valuable insight on how to build a strong professional network, and how to strengthen the ones you already have:
1. Are you on LinkedIn?
Yeah, we know: One more social profile to update and maintain! The truth is that LinkedIn is all about business, and not so much about funny viral videos and personal posts and pictures. LinkedIn is a platform tailor-made for professional networking. Once you've grown your presence within the platform, you will be connected to others in your business sector, and your reach will summarily expand. Join LinkedIn Groups that are dedicated to your area of expertise, and be proactive about posting regularly. You can even set it up so that when you post on LinkedIn, it posts to your Facebook page and Twitter feeds automatically – a huge time saver.
2. Go to events
Not every trade-related event can be called a networking event per se, but every single one of them is an opportunity to grow your professional network. Whether it's a trade show, conference, fundraiser, or strictly social, go to as many as possible. Talk to people, ask questions. Meet new people, get their contact info, follow up, repeat. The more visible you are, the better you'll be known, and the faster your professional network will grow.
3. Embrace your roots
There's no place you should be stronger than in your own back yard. After all, the millennial trend is largely towards 'buy local', so make it known that you are and should be their local choice. Make a point of reaching out to the business people in your area, whether they are in your industry or not. Reach out to local business to find out what you can do for them, and what they can do for you. When you outsource locally for services like graphic design, web design or virtual office services, your proximity will always work in your favor.
4. Canvas the contacts you already have for referrals
If you already have a few strong business contacts, ask them if there might be somebody they know that would be interested in your services. A satisfied customer will always be your best advocate. Further to that, if there is somebody you particularly want to meet that has a connection to an existing client, ask for an introduction; most will be more than happy to make the connection, especially if they are happy with your services so far.
5. Volunteer, sponsor and give generously
If you have the chance to help out at a community event or trade show, or to contribute sponsorship to a local sports team, community initiative, or school-related event, step up and offer whatever you can, including your time, for whatever they might need. You will be putting your company front and center at events, showing your local colleagues and the general public that you are committed to the success and prosperity of your city or neighborhood. In addition to that, you will likely be rubbing elbows with other local businesses involved in philanthropy – always good company to be in.
Heritage Office Suites in Round Rock, TX
If you are an entrepreneur or small business owner in the Round Rock and Georgetown area of Texas, Heritage Office Suites can help you grow your professional network. Whether you need office space or a meeting room, or if you enjoy working in a vibrant coworking environment, we've got flexible options for you. Call today or drop by for a tour, and discover how affordable professional office solutions can be.