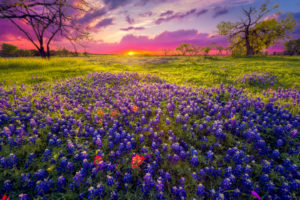 Nicer weather, more sunshine, and longer days are just around the corner. If you are ready for winter to be in your rear-view, there's nothing like planning a spring getaway to bring the warmth back to your heart.
If you're looking for a destination that is close enough for a day or weekend trip but far enough away in the atmosphere to feel like another world, Texas Hill Country has it all. The awesome scenery, quaint towns, historical places, unique shopping experiences, beautiful parks, and great restaurants – and let's not our very own wine country – the most difficult decision you'll have is where to go first.
Here are some ideas to get you started:
Fredericksburg
If you love the easy-going leisure of a B&B and sampling award-winning local wines, Fredericksburg is your town. Beyond the culinary experiences to be had, there is plenty of sightseeing to do. History buffs will love visiting the Pioneer Museum. Outdoor enthusiasts can't miss the Enchanted Rock and Lady Bird Johnson Municipal Park. If you prefer a guided experience over self-directed, book a wine tour with one of the many local tour companies.
Dripping Springs
Stargazers flock to the town of Dripping Springs as it is the only location in Texas to have the distinction of being a Dark Sky Community. This means that the town is recognized for its efforts to preserve the character and quality of the nighttime sky. Camping is available at Dripping Springs Ranch Park, and if you're looking for ways to pass the day until the sun goes down, check out Dripping Springs' historic Mercer Street.
Luckenbach
If you love country music and the old west, it doesn't get much better than what you'll find in Luckenbach. Known for its dancehall, Luckenbach has hosted a long list of country music luminaries, including Waylon Jennings and Willie Nelson. Luckenbach's general store and saloon are a slice of history in themselves, and there is live music every night of the week.
Wimberley
The outdoorsy among you will fall in love with Wimberley. Probably the most popular destination is the Blue Hole Regional Park. Known for its swimming area, picnic spots, playgrounds, and hiking trails, The Blue Hole is the perfect place for the whole family to get back to nature.
Jacob's Well is another popular destination for day park use and swimming; their artesian well and caves are a favorite spot for locals and tourists alike. Swimming season at Jacob's Well runs from May 1 through October 31, but visitors can enjoy the rest of the park year-round. Parking and hiking are free, but if you're coming to swim during the warmer months, you must reserve ahead of time.
What are your favorite springtime getaways in the Texas Hill Country? We'd love to hear about them. Reach out today, and let's make some plans – because you know, all work and no play make us all want to getaway!