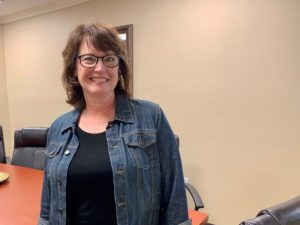 When many people hear the term "estate planning", they think this is only something for the wealthy.  But this is simply not true.  Everyone can benefit from estate planning services, regardless of their current financial situation or family situation.  In a recent survey from Caring.com, only 42% of American adults currently have estate planning documents, such as a will or living trust.  End of life discussions are never pleasant but oftentimes necessary.
If you do not have estate planning and you are unsure where to start, the best approach is to contact an attorney who is an expert in estate planning, wills and trusts.  Recently, we sat down with Jennifer McKay, an estate planning and probate attorney at our Georgetown location.
Can you tell me a little bit about your practice and what type of legal services you provide?
I am a Board Certified Estate Planning and Probate Attorney.  I typically work with clients, either in person or virtually, to prepare or update Revocable Trusts, Wills, Powers of Attorney, Medical Powers of Attorney, Directives to Physicians, Designations of Guardians for adults and children, and Appointments of Agent for Disposition of Remains.
I also consult with my clients about the coordination of their assets with their intended estate plan, such as life insurance and IRA/401k beneficiary designations, titles on property, and titles on their accounts.  I am no longer accepting new probate clients but have a great relationship with a probate attorney to whom I refer most probate matters.
How did you get into your current career?
I began as a teacher, and I still feel like I am a teacher. Now I just teach adults rather than 6th graders! After a brief stint in education, I enrolled in a paralegal program and began to work in a law firm. I was trained by some incredible tax and estate planning lawyers in Houston. Once I had a few years of training in preparing estate and probate documents under my belt, I felt confident enough to enroll in law school at the University of Texas School of Law. It was helpful to already know what field of law I wanted to practice, Estate Planning and Probate.
What can people expect from meeting with you?
I hear all the time that I am easy to talk to, and that meeting with me concerning estate planning is so easy! I suppose people believe that this is a difficult and intimidating process, not having worked with a lawyer. I try to work with my clients in a professional yet easy-going manner so that they are comfortable with me and the process.
What is something about your business that most people don't know?
Most people don't know how flexible I am with the manner in which we work. I will meet with my clients at Heritage Office Suites, or in their home or office, or even virtually via Skype or FaceTime. I want to make this process easy and convenient.
Where do you see your business in 5 years?
I see my business going much more virtual within 5 years. My practice has always been unconventional, in that I have not held a permanent office. I have met with my clients wherever it is convenient for them. I will further that concept by expanding my virtual service to meet with clients all over Texas, where I am licensed, and I can be location-independent. I look forward to traveling more with my husband.
What about your job inspires you?
I am inspired by my elderly clients and their reflections upon their lives, the importance of love and family. As a result of working with those with terminal illnesses and the families of people who have died, I have become somewhat of a minimalist, shedding the burden of many possessions and things I "can't take with me".
Give us a little background on yourself. (where are you from, family, education, hobbies, etc.…)
I was originally from Houston, but the beauty of the Texas Hill Country stole my heart in college. I am married to my high school sweetheart, Andy, and we have three children in college. I attended The University of Texas at Austin for undergrad and for law school. I became Board Certified in Estate Planning and Probate in 1998. I have worked in the field of estate planning and probate for 27 years. I enjoy travel of all kinds, hiking, nature and wildlife.
When not working, how are you inspired?
I am inspired by those who value people and experiences rather than things. I love being in the mountains, in the woods and anywhere that I can breathe in God's beauty around me.
Why did you choose Heritage Office Suites? How has Heritage Office Suites helped your motivation/productivity, or how has it helped your business grow?
I chose Heritage Office Suites because it is a wonderful addition to Georgetown and suited my needs well. I enjoy having the convenience of an office close to home, close to my clients and easily accessible. I appreciate the variety of packages and services available to me, rather than to have to be held down by a long, expensive lease and employees to keep an office running.
It has helped my business grow in that I do not spend so much time traveling from client to client – I can easily schedule a day full of meetings at Heritage and have the clients come to me. The clients are welcomed by a friendly face, are given access to beverages and a clean, professional office.
If you would like to learn more about Jennifer Mc-Kay Attorney at law, you can visit her website.  You can also connect with her on Facebook, Twitter and LinkedIn.