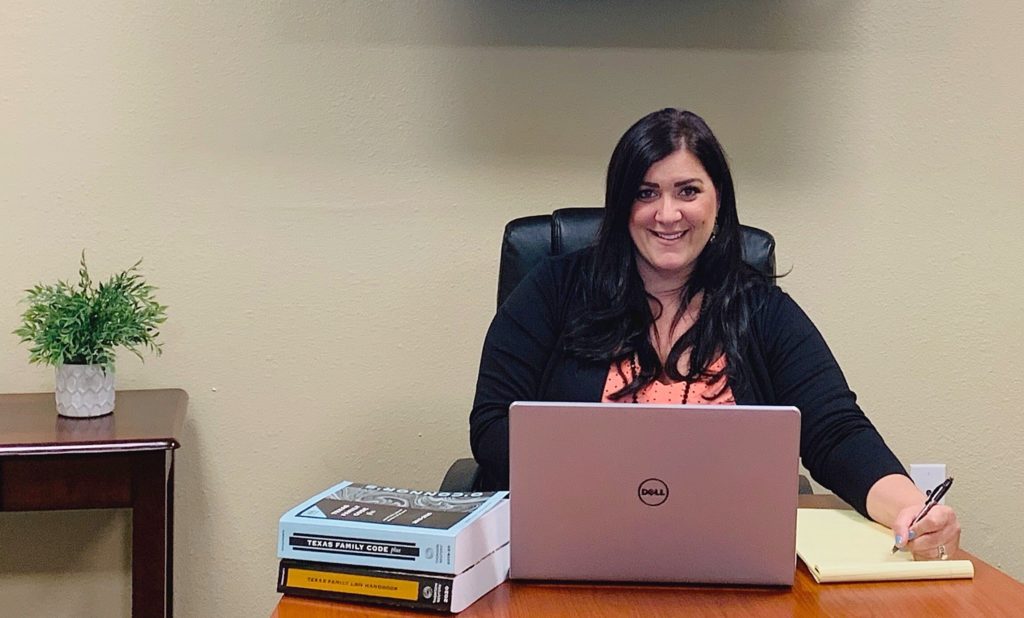 Family law lays out and protects the rights and responsibilities of family members across a wide spectrum of situations. It is designed to be a framework that provides a basis for achieving fair and equitable results for all family members involved, whether they are adults or children.
If there is one individual who can speak even more about the importance of this specialty, it would be Lawyer, Jessica Presswood of Presswood Law. PLLC. We recently had the opportunity to speak with Jessica to not only learn more about her herself, but her practice as well.
Hi, Jessica! Tell me a little bit about what you do at Presswood Law, PLLC, and what kind of services your company offers.
Presswood Law, PLLC mainly focuses on helping families navigate the family law context. I am privileged to serve clients in their divorce proceedings, child custody matters, possession and access/child support modifications, enforcement matters, and issues relating to protective/restraining orders.
How did you get into your current career?
For eight years preceding my practice in family law, I was a General Counsel to a high technology company. As a mother and a divorced parent, my post-divorce litigation and experience with co-parenting in a high-conflict dynamic inspired me to leave the corporate legal world and combine my communications and legal backgrounds with my passion for helping others.
What can people expect from meeting with you?
My clients can expect a lawyer who helps them navigate the legal system both strategically and emotionally. With 14-years of experience in the practice of law, my clients can expect a lawyer who understands the dynamics of their case, who focuses on the client's desired outcomes and who teaches them skills to empower themselves as we move through the legal system.
What is something about your business that most people don't know?
In addition to helping families navigate the family law system, I am passionate about educating parents and professionals on how to create happy, healthy homes for children. I operate Presswood Resolutions, PLLC, and The Co-Parenting Project. I participate in community outreach to educate third party professionals about the legal system and help to debunk common fears about their involvement with families who are stuck in litigation.
I have written curriculum titled Testifying Isn't Terrifying, Afterall, How to Set Boundaries with Your Ex, How to Influence Your Co-Parent and Shift the Family Dynamic, How to Create a Stable Environment for Your Children, Despite the Chaos, and I have authored the book Co-Parenting in the Trenches, a Debrief from a Divorced Parent.
Where do you see your business in 5 years?
My goal is to continue to create awareness throughout the mental health profession on the importance of their advocacy of children within the family law context. My law firm continues to grow, and I will continue to staff, accordingly.
What about your job inspires you?
I am inspired to see how God continues to work through me as I get to serve His people. I am inspired by growth, change, and justice. When I know I was able to protect a kiddo, my heart is happy.
Give us a little background on yourself. (where are you from, family, education, hobbies, etc.…)
I am was raised in a small town in Northern Arizona. I am the first member of my family to go to college. As a child I was faced with many forms of discrimination which has inspired me to fight for the underdogs. I have two beautiful children, my daughter Ava who is 12, and my son Tavan who is 10. I am currently expecting my third child, my son, Asher.
We have two large dogs, Titan, "the destroyer of worlds" a black mouth cur and Justice "the mischievous", a sweet and sassy Rottweiler.
Other than work, what inspires you?
I am active within Celebration Church and find joy worshiping the Lord, teaching my kids what I learn in small groups, and making Jesus the center of our lives. I am at peace when I am surrounded by genuine and authentic people.
Why did you choose Heritage Office Suites? How has Heritage Office Suites helped your motivation/productivity, or how has it helped your business grow?
Heritage Office Suites provides me with the perfect combination of community and privacy. I enjoy working around others and it is an absolute joy to work with Jenny Herrera in the Georgetown office. The environment and community at Heritage Office Suites motivates me to come into the office and work with like-minded entrepreneurs. My business has exploded since I have signed up for my office here.
If you would like to learn more about Jessica and her business, you can visit her website. You can also connect with her on Facebook.