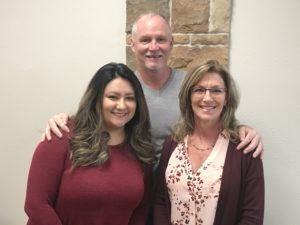 Pictured left to right:  Adriana Miller, Jesse Walls & Cheri Walls
This month, we welcomed the opportunity to sit with Jesse and Cheri Walls and learn about Walls Insurance Agency.  With over 40 years of collective experience, the Walls Insurance Agency team of agents have extensive knowledge of the insurance industry and how to manage your risk. Whether your needs are for General Liability, Commercial Property, Workers Comp, Business Auto, Cyber Liability, Business Interruption or just your personal Home & Auto, they partner with their clients to custom design an insurance program that meets their specific needs.
As an independent agency, they have established partnerships with some of the nation's top insurance providers.  These relationships allow them to provide their customers with insurance options and competitive rates.
As a Texas native, Jesse feels blessed with the opportunity to be able to assist the people and their businesses throughout this great state.
An insurance professional of 25+ years, Jesse is truly a student of the industry. During his tenure he has been active in building and managing personal lines and commercial lines agencies. Jesse has also spearheaded several agency acquisitions.  He said, "the key in helping the newly acquired clients immediately feel comfortable is through my genuine concern, personal service and knowledge of all the products that our company offers."
Jesse's vast knowledge of the insurance needs in many different industry verticals allow him to serve as a trusted and valued resource to all his clients and fellow agents.
Jesse and his team are committed to providing the best coverage possible, limiting your risk and exposure, and providing the best value available in the market today.
Jesse is an MBA Graduate of Rollins College, Crummer School of Business in Winter Park, Florida.  When not working with his clients to provide the best insurance protection possible, you can find him spending time with family or on the trails with his friends riding his KTM 250 Dirt Bike.
Cheri started her carrier as a General Lines Insurance Agent in 2014.  She is a graduate of The University of Central Florida in Orlando, Florida with a degree in Communications.  Prior to her insurance career, Cheri spent 15 years as an advertising and marketing executive working for small private companies as well as large publicly held companies servicing family owned business to international time-share corporations, utilizing multi-channel marketing solutions.  Cheri credits this experience and says, "it enabled me to become an excellent listener, solutions provider and problem solver for anything thrown at me in a capable and professional manner."
When not working to give her clients more peace of mind, Cheri loves to spend time with family and her beloved Thoroughbred horse "Fergie" working up the Dressage Training Scale.
Adriana "our Agent-Extraordinaire" Cheri says, was raised in Port Isabel, a small town by South Padre Island, Texas. She ambitiously graduated High School in 3 years from Port Isabel High School. She attended the University of Texas at Brownsville where she studied Business. Adriana started her business career at JP Morgan Chase as a Business & Consumer Banker for two years.
Her insurance career began in 2007 in Austin, Texas where she worked for a small insurance company as an Insurance Agent. She then worked for Nationwide Corporate in San Antonio as a National Insurance Agent for many years. There she obtained her insurance license in 48 states and provided coverage and assistance to customers all over the US.
She was a top performer recognized not only for sales, and for providing customized solutions for her customer but, also for providing excellent customer service always.
Because of this, and her true passion for insurance, Adriana was chosen to be part of the Nationwide Sales Advisory Council.
Adriana has since moved back to Austin, Texas where she continues her career with the Walls Insurance Agency. She is an insurance agent whose primary focus is to help customers tailor policies to their needs in order to reduce risk.
Adriana loves sports; her favorite football team is the New Orleans Saints, and she also enjoys watching the San Antonio Spurs basketball team. She enjoys spending time at the beach with her husband and family.
The Walls Team is a local agency which means, their team of agents are accessible to their clients when needed. "We take the time to listen to and get to know our clients and their insurance needs and take care of them and their businesses like they are our own.", said Jesse.
The Walls Insurance agency is inspired by having the opportunity to sit down with people to uncover their insurance needs & concerns.  This is where their passion comes through.  Cheri says, "being able to look at several companies to put a solution together that will allow them to rest easy knowing they are covered under any circumstance, so they can then focus on their families and running their businesses is our number one priority."
Jesse, Cheri and their team are happy they found a home at Heritage.  "We feel that Heritage Office Suites offers a welcoming & professional atmosphere where we are able to work efficiently and comfortably, and also feel proud bringing our clients in to meet face to face in either of the conference rooms.  We also like how Heritage has monthly events to bring the businesses within the building together for casual gatherings over appetizers, hot cocoa, wine & cheese etc.  It's a very nice atmosphere to casually network."
To contact the Walls Insurance Agency, call 512-647-2338 and to stay up to date on insurance news; follow them on Facebook.