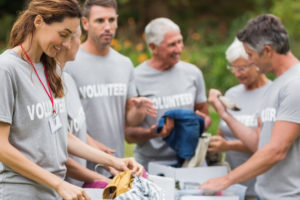 Growing your business in small markets such as Round Rock and Georgetown isn't always easy. Once you have established yourself and have built a comfortable customer base, thoughts will inevitably lead to expansion, but you may need to step outside your comfort zone and try something new to make that happen.
One of the ways that you can expand your network is by joining the board of a local non-profit. There might even be an opportunity here for you to connect with an organization that adds meaning to what you do, and this is truly where the magic happens.
How being a board member helps you expand your network
Being the member of a board gives you a chance to give back to your community by contributing your expertise to a cause that you care about. It will introduce you to people who share your passion and who can help you by becoming advocates for your own cause.
Fundraising helps you connect
Building a network is critical to ongoing success. Having that network in place before you need it is also key. You will likely be involved in fundraising for the organization as well, which will put you face-to-face with people in your community who will then be able to connect you to your business in a favorable way.
Develop new skills
Beyond the core mission of the organization you have joined, you have the chance to learn new skills, bounce new ideas around, and develop new relationships that could add to your value and that of others.
Helping people
The value of being of service to others goes beyond simply helping others, it makes you feel good about yourself, too. From a business standpoint, being of service to your community shows your neighbors how committed you are to a collective cause. People these days prefer to work with companies and people whose values they share. When this happens, new business will always ensue.
Gain new perspective
Being on the board of a non-profit or community organization will expose you to the viewpoints of many other people who also have a stake in the initiative. This will help you see the same issue from another's point of view.
Discover more about your community
Your fellow board members are bound to be a diverse bunch. Getting a sense of what cultural dynamics are at work in your community will help you craft your company's own message going forward. Knowing who you need to tailor your messaging to in a small market will always help you succeed.
Be a better leader
Chairing a board or heading up a committee will help you learn how to gain accord through process. This translates easily to your business activities, helping you to better articulate your message and become a better leader along the way.
Growing your network in a small market doesn't have to be a challenge if you think outside the box. If you live and work in Round Rock or Georgetown, there are plenty of community organizations and non-profits that would love you have you on board.
If would like to learn more about how non-profit community involvement can help you grow, contact Heritage Office Suites today or drop by one of our locations for a tour.