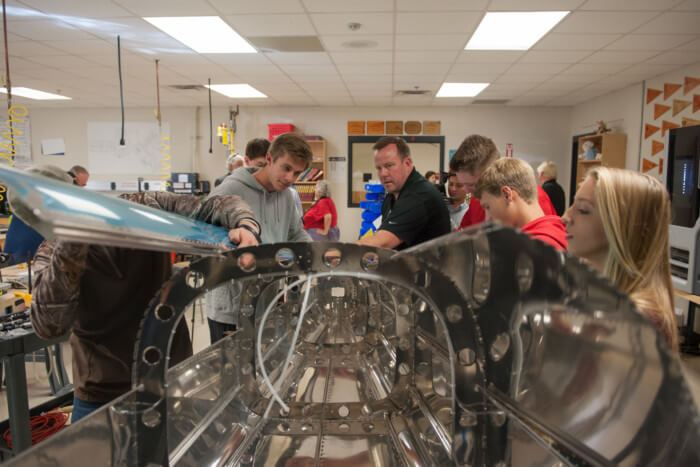 Williamson County has one of the fastest growing economies in the nation and is raising a new generation of innovators. Case in point, an aerospace engineering project offered to high-school seniors through a college credit program called Project Lead the Way (PLTW), an annual program offered by the Georgetown school district (comprising Georgetown and East View high schools) in conjunction with a newly created nonprofit corporation Tango Flight, which operates out of Georgetown Municipal Airport.
Sparking student interest in STEM
The ultimate goal of Tango Flight is to spark students' interest in aviation and aerospace in hopes that they will go on to pursue a career in these areas. While the kids see it as an opportunity to build and fly a real aircraft, they are actually learning essential STEM (science, technology, engineering, and mathematics) skills and theory, which could take shape in a multitude of areas, aviation just being one of them.
Tango Flight currently leverages the experience of about 30 mentors sourced from the local aircraft community, putting them together with students of the aviation program. Georgetown's school district is one of only two high schools in America with such a program, and students who are so inclined can choose to take part on their way to a multitude of opportunities in the field. As lessons and training are not cheap, it's not for everybody, but there are scholarships available to exceptional students.
GISD is the surprise model for similar programs across the nation
As a high school program, the situation in the GISD is quite unique. While attending an aviation STEM symposium in Seattle last year, the two heads of the program, Dan Weyant, and Randy Rossi came to discover that the rest of the nation was looking at GISD as a model to base their school programs upon. As it happens, the GISD program is the only one that offers students a chance for hands-on experience and training while working at a functioning commercial airport – but the notoriety doesn't stop there: in 2016, Texas A&M's engineering department invited students in the GISD program to tour their campus and experience their engineering labs and wind tunnels first-hand. In January, they were off to Houston for an insider tour of NASA, organized by one of the program's mentors, Jim Snowden, who is a former NASA flight controller.
Whether or not students decide to continue on in aviation or aerospace is up to them, but with the recent trend in the STEM community towards recruitment and the search for innovative ways to facilitate interest at the school level, Georgetown is off to a fine start and may just be establishing itself as a hotbed of young scientific talent.
Today, it's an airplane. Tomorrow, perhaps they'll conquer Mars. And it all started in Georgetown.
Heritage Office Suites is proud to serve as the premiere shared workspace provider in Round Rock and Georgetown. Whether you are a start-up, entrepreneur, or a large company needing flexible workspace or meeting rooms in Williamson County, 'the sky is the limit'. To that end, Heritage Office Suites is here to help your business reach its full potential.