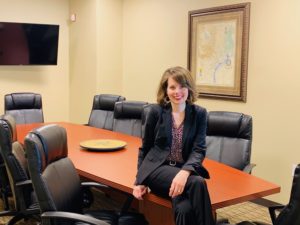 Hi, Valerie! We are excited to learn about you and your practice.  Tell me a little bit about you, what you do and what kind of services your company offers.
I am a Criminal Defense Attorney primarily practicing in Williamson County as The Law Office of Valerie Cavitt, PLLC.  I help individuals who recently made a mistake or were wrongfully accused of a criminal offense.  My goal is to keep my clients from becoming repeat offenders. I have also been an international actress since I was 2 years old.
Give us a little background on yourself. (where are you from, family, education, hobbies, etc.…)
I am native Austinite and graduated from Westlake High School and my family is members of First United Methodist Church in Round Rock. I received a BA from Texas State University in Mass Communication with an emphasis in Electronic Media and I minored in Business Administration. I met my husband while we were both attending Texas State. We have a 14-month-old son who loves trouble. I graduated from ASL in Virginia where I received both my law degree and the Lawyer as A Problem Solver Mediation Certificate. I enjoy snowboarding, running, swimming, as well as, going to the movies with my friends and family. I am a proud member of the Chi Omega Sorority and on the Administrative Council for The Junior League of Austin, as well as, the President of the Williamson County Bar Association Women's Lawyers Section.  I have also been into acting since I was a kid.  I most recently appeared on AMC's Fear of the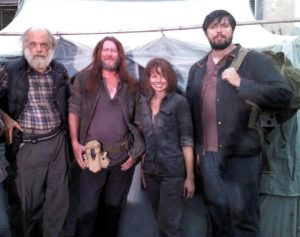 Walking Dead as a Zombie Walker.  The episode I appeared on originally aired on September 29th, 2019.  We filmed for 5 days.  Each day it took an hour and a half to complete makeup.  We were on set for 17 to 18 hours a day.  My most memorable moment for me happened at Pedernales Falls. It was so hot outside and cast members started having heat strokes. While we're filming a scene at Pedernales Falls it required zombies to float down the river. I for sure volunteered and had an awesome time cooling off while floating down the river.  It was fun hanging out with the cast.  Given that chance, I would absolutely do it again.
Other than work, what inspires you?
Family, religion and politics all inspire me.
How did you get into your current career?
I originally wanted to be a Legal Analyst on television.
What can people expect from meeting with you?
People can expect hard work, professionalism and honesty. I am very straightforward. I live by the Golden Rule.
What is something about your business that most people don't know?
It is a lot of fun! It is not anything like television wants you to believe.
Where do you see your business in 5 years?
I do not see much change in the future. Everything seems perfect right now.
What about your job inspires you?
My clients are inspiring. They share their private lives with me and together we are able to turn a bad situation into a promising future.
Why did you choose Heritage Office Suites? How has Heritage Office Suites helped your motivation/productivity, or how has it helped your business grow?
I chose Heritage Office Suites because they have prime locations and professional staff. I truly appreciate the trustworthy employees.
If you are in need of legal assistance, you can contact Valerie through her website.  You can also follow her on Facebook and connect via LinkedIn.