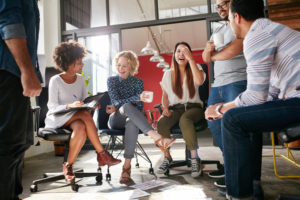 Anybody who is in business will tell you – networking is the key to widening your reach and generally letting people know you are a force to be reckoned with. Living and doing business in Round Rock means that your next customer is not just walking in the door, so you need to put yourself out there to make the magic happen!
Networking events are perfect for covering a lot of ground in a short space of time. Here are some tips to help you conquer any networking event and jump-start your career or business in the process:
1. Come prepared
The best way to make the most of your time at a networking event is to do your prep work beforehand. Most trade events will have a list of companies or organizations that are participating, so you should start there. Make a priority list of who you'd most like to speak to and make sure they are at the top of your agenda.
Maximize your time
Find out as much as you can about the stakeholders before you go: "like" and browse their social media business pages for more insight. Know that you will have a limited amount of time to make your case, so be prepared with a good elevator pitch.
Bring backup
If the person is in high demand, you might not even have time for a pitch, so be sure to bring your business card and any marketing collateral you can pass on.
2. Dress for success
Looking good might be half the battle, especially if you're in business. Even if the networking event is on a weekend, break out your business casual and rock it up. Looking like you just crawled out of bed on the way to the gym isn't going to score you any points.
That said, dressing in a way that helps you stand out from the crowd will help you be more memorable. Think about wearing a colorful shirt or dress – something that sets you apart from the endless sea of conservative black and blue. Be true to who you are though – there's no need to spike up your hair if that's not what you normally do. Let your personality shine through without having to force the issue.
3. Rock the follow-up
What you do following the event is just as important as what you do while you're there. Keep tabs on who you speak to and who you give your business card to. It's easy to get confused after the fact with so much going on, but if you resolve to stay organized, landing the results you need should be a breeze.
Don't expect to get a bunch of callbacks – that is on you. If you make promises to get in touch, keep them. If your contact says they want to learn more, prepare something that's going to make them glad they did. Even if some of your connections don't pan out, they will know that you are a person of your word.
How do you generate leads and make connections in today's frenetic business climate? Heritage Office Suites would love to be a part of that success. We host monthly networking events that have proven to be highly prosperous for our clientele. As Round Rock and Georgetown's favorite flexible office space, we invite you to drop by for a tour when you're in the area – the coffee's always on!