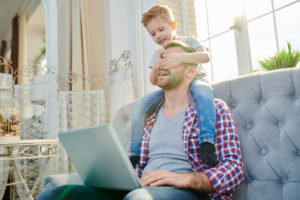 School is out, and the sun is shining – Let the summer fun begin!
Summertime in Texas is filled with friends, family, and lots of fun things to do outside. But, if you're working at home, it also means extra distractions keeping you from getting your work done on time. If you have children who are out of school for the summer, this can be an even bigger issue – that is, unless you have a good plan in place before the mayhem begins.
Depending on how active your household becomes, avoiding summer distractions might be challenging. Here are our top tips on how to avoid summer distractions while working from home:
1.     Adjust your working hours
If your work doesn't depend on you getting it accomplished at a specific time of day, you might want to think about adjusting your schedule to accommodate what's going on in the rest of the house. If you switch up your working hours too early mornings or later in the evening, it may take some of the frustration away.
2.     Work in spurts
While it may be impossible to get an entire eight-hour stretch to yourself, you may be able to get the same amount of work done in two-hour spurts. Make a schedule that takes into account what your kids are doing at specific times of the day—day camp, playdates, and so on—and plan your work around that.
3.     Sign your kids up for summer activities
Chances are, your kids will be looking for fun things to do. Be proactive and provide that for them by signing them up for swimming lessons, horseback riding, or day camp. This will cover all the bases, giving them something to do and keeping them out of your way.
4.     Hire some help
You may not think you can afford a babysitter every day, but there are likely lots of teenagers in the neighborhood who would love to have some extra money in their pocket. The distraction-free time that it affords you might just help you be more productive, so it will be money well-spent.
5.     Set goals
Each day should have an objective. If you approach it like that, you are less likely to allow distractions to derail you. You may also find that you have more time for fun because perhaps you can do both – achieve your daily goals and allow yourself to be distracted. It's all in how you look at it.
6.     Sign up for a coworking membership until school starts again
If your kids are older, your home can quickly become ground zero for a lot of summer get-togethers. While older teenagers can certainly amuse themselves, all the comings-and-goings and the extra noise might present a distraction. Heritage Office Suites offers month-to-month coworking memberships that provide all the amenities of a state-of-the-art office (including awesome air conditioning) without the distractions of home.
With two convenient locations in Georgetown and Round Rock, Heritage Office Suites is the perfect solution to your summertime distraction blues. Drop by for a tour today, or call us directly to learn more about what we can do for you.