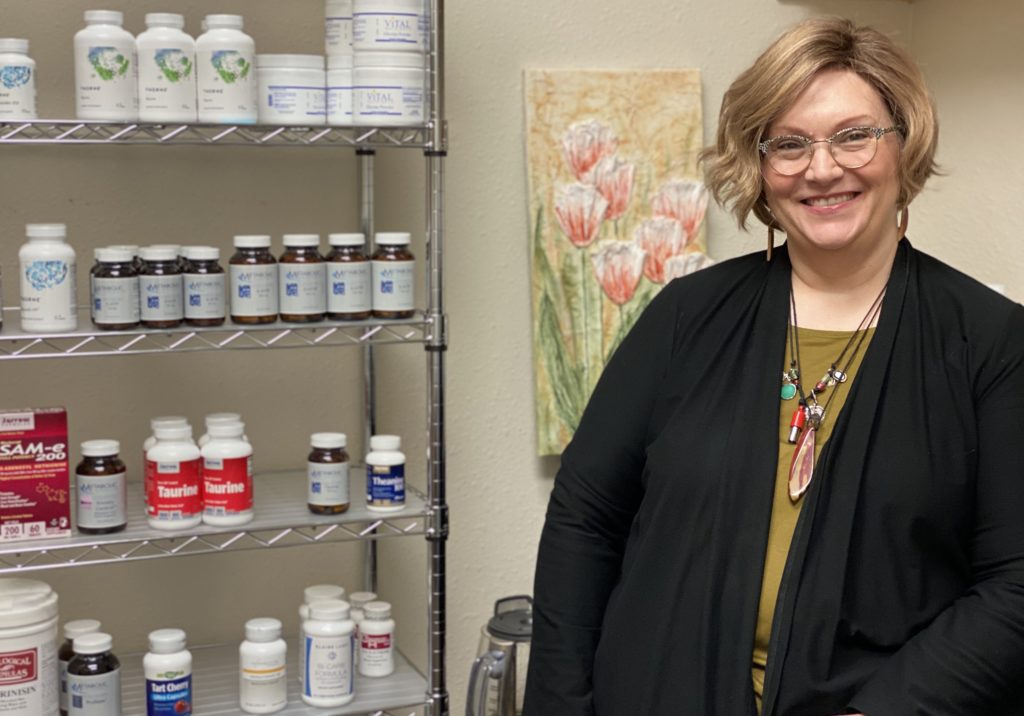 Genetics helps explain a lot of things for a lot of people. Taking time to learn about genetics can help you understand your own health and make healthy choices. We recently had the chance to speak with Elizabeth Winn with Vitamins Etc. to learn more about not only herself but also her practice and how impactful it can be.
Hi, Elizabeth! Tell me a little bit about what you do at Vitamins Etc. and what kind of services your company offers.
Biochemistry offers a way to look at health, genes, current opportunities for improvement, and future issues that may be waiting in the wings. It's also an amazing window into brain chemistry and issues that plague so many these days: anxiety, depression, mood disorders, and addiction. In addition to biochemistry, I also do counseling utilizing a number of modalities: IFS (Internal Family Systems), ACT (Acceptance and Commitment Therapy), and positive psychology. Bio-identical hormone replacement therapy and hormonal education is also a big part of the practice.
How did you get into your current career?
I met Dr. James Heffley in 1981 as a client to get help for my asthma and thyroid disease and was fascinated by his work. He had a private practice in Biochemistry outside of his experimental work at the Clayton Institute of UT. Within a very short period I became his Admin and began to get my education in biochemistry, and later, psychology. The years I spent working beside him before his retirement were among the richest educational experiences I have ever enjoyed, and I will always appreciate his mentorship. There is a huge difference between the theoretical learning experience of college and the experimental learning of being in actual practice beside someone who began his career 25 years before I did. It was priceless!
Upon his retirement, I bought the practice and have continued to build on his life's work and make it my own with the addition of current genetic understanding and new discoveries in brain chemistry management and counseling.
What can people expect from meeting with you?
Some clients come in just for help understanding their lab work or genetic raw data, others just for counseling, and some for both. In any event, I take a health history, (health and mental health are always intertwined) we discuss questions they may have and goals that are important to them, and they leave with recommendations about amino acids, bio-identical hormones, vitamins, minerals and coping skills that will be of help in meeting their goals. When a client has done a 23andme.com test, I interpret their raw data and devise repletion strategies for their methylation deficits. We then meet periodically to evaluate how progress is coming along, or in the case of counseling clients, we meet as often as needed to provide support.
What is something about your business that most people don't know?
Before I streamlined my operation, I officed in the hospital district in Austin and my office also did blood draws and other collections and did lab testing on-site. Since I am an out-of-network provider, and therefore my lab services were not covered by health insurance, I closed the lab when I moved my practice to Round Rock.
Where do you see your business in 5 years?
That's not an easy question to answer; because of caregiving obligations, it's hard to make long-range plans right now. I have my elderly Mom and Stepdad (he has Alzheimer's), and my son has been disabled for 11 years and my husband and I care for him at home. It's a lot to juggle, so I am content to maintain the status-quo professionally right now so that I can look back on this challenging time and have no regrets. I want to give my full attention in each moment to whomever I have the honor of being with at the time, clients, family. If I were to try and make big splashes in social media or publishing, the quality of my time with people would be compromised, so for now, I prefer to keep my working schedule as it is to prioritize the quality of the experience I offer to clients, and family, while still offering me the needed time to keep current scientifically.
What about your job inspires you?
It is such an honor to be a part of someone's story. When people share their health concerns and struggles, it's a trust handed gently from one person to another, like holding a baby bird. Clients share their life with me, and I am always humbled to have a share in some small way in helping them understand themselves and their situation in a more compassionate and empowered way.
Give us a little background on yourself (Where are you from, family, education, hobbies, etc.).
I was born in Seguin but traveled the world with my dad and mom, who travelled for his career. My husband and I have been married for 37 wonderful years, and we have one son. I trained both locally and through nearly constant distance learning (I'm an education junkie). Life, to me, means continued learning. In what limited down-time I have right now, I love to read, cook, sew, and knit. My camera is always in my day bag, and I love capturing moments of beauty and light whenever I can.
Other than work, what inspires you?
Life! It's short, precious, and not to be missed. I work hard to stay present, not just to do my best work, but for myself, so that I don't miss moments of peace and beauty. I'm looking forward to, for example, the next few weeks when the Bradford Pear trees around our office explode with blossoms!
Why did you choose Heritage Office Suites? How has Heritage Office Suites helped your motivation/productivity, or how has it helped your business grow?
HOS has been an amazing experience. I had never down-sized before, having been in the previous location for almost 30 years. The staff and management have made it an easy and pleasant experience. Since I've cut back somewhat on my work schedule to account for caregiving needs, HOS has allowed me to still have the benefit of a great staff without the (expensive) reality of lots of paychecks and payroll taxes to worry about every month. And there are no "extra" bills to pay: janitorial, phone, electricity-they're all covered! (I should have done this years ago! My work space works perfectly for where I am right now in my work-life, and I couldn't be more pleased with the staff: Virginia, Amber, and Josie are the perfect "faces" and phone voices for Vitamin's Etc., and my clients feel comfortable and cared for by them. The best thing of all is being able to have a three-minute commute instead of an hour-and-a-half! Life is good!